Is it a Neck Problem or Thoracic Outlet Syndrome?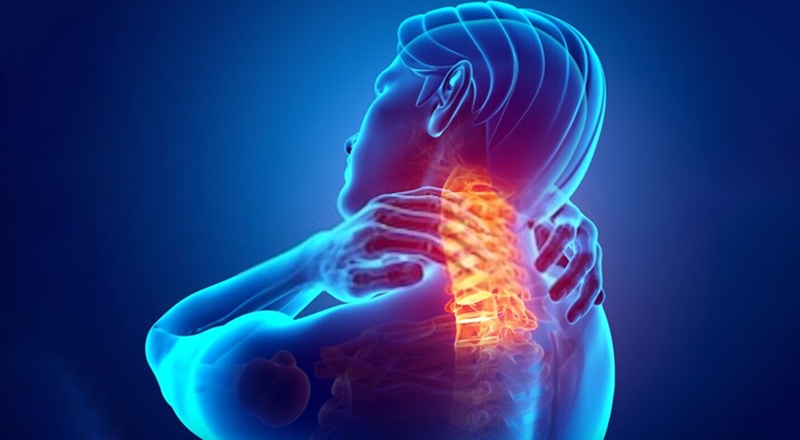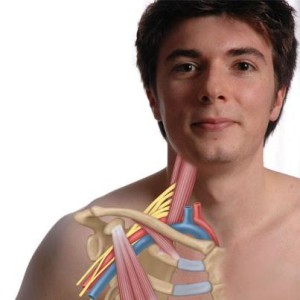 Many people at Root Cause Medical Clinic complain of pain in their neck or shoulders that may be diagnosed as neck pain. A detailed evaluation may reveal the real problem – a condition called "thoracic outlet syndrome".
The thoracic outlet is a very important section in the upper shoulder and neck region. It is the space through which important nerves, arteries, and veins pass-through from the neck to the upper arms. It is surrounded on all sides by rigid bones such as the collar bone and the first rib, as well as strong muscles such as the scalenes, subclavius, and upper trapezius.
In order for all these structures to pass through the region and function normally, space has to be broad and fairly large. In certain instances, this space becomes compressed and narrow resulting in pinching of the nerves and blood vessels.
Thoracic outlet problems can be caused by many things. Some of the more common are:
1. Tightness of the muscles bordering the outlet such as the scalene, sternocleidomastoid, upper trapezius, and subclavius.
2. The presence of an additional rib which pushes down on the outlet,
3. Malformation of the collar bone,
4. Misalignment of the first rib that lies close to the collar bone.
Some of these causes can be very severe resulting in a complete blockage of the underlying arteries and veins. This could then lead to clot formations in the blood vessels. In such instances, clot-dissolving medications and surgery may be the only way to relieve the problem. But fortunately, that is an extreme case and not what is commonly seen.
Less severe impingement can be treated very successfully with physical therapy and chiropractic care.
What Symptoms Can You Expect?
Most patients at Root Cause Medical Clinic here in California's Silicon Valley complain of pain in the neck and upper back region. The pain is often localized at the base of the neck or the top of the shoulders.
Some complaint of pain in their upper back region near the shoulder blades. This kind of pain tends to be constant, unrelenting, and annoying. Patients tell me they can feel some lessening of pain when they "put pressure or poke" their shoulders and muscles, whether it's with their finger or against the edge of the wall or other hard object.
Others complain that the achy pain is present when they wake up in the morning or when they've sat and worked for long periods of time.
And still, other patients may have occasional tingling or numbness sensations in their fingers.
There can also be the complaint of hands feeling cold or sweaty.
Those with long-standing pain may complain that their entire arm feels weak.
Most patients feel that the pain is muscular in nature. These patients will try out different home remedies like heating pads, heat patches, or cold packs.
Some will download a few necks stretches from the internet and work on them at home and in the office.
Others will visit their MDs and receive a diagnosis of neck pain along with a prescription for pain medication or muscle relaxants.
X-rays or MRIs can be performed to try to figure out the problem and there is certainly nothing wrong with diagnostic testing to get more information. But what is wrong is that all the therapies listed above have a liability: they may decrease the pain temporarily for a few days, weeks, or even months, but sadly and it will eventually come back.
Why? Because the root cause of the problem hasn't been addressed. The 'treatment' being utilized is too superficial and therefore doesn't resolve the problem.
What Treatment Works
Physical therapists who are orthopedic specialists are well trained to evaluate thoracic outlet issues. They can determine what the causative problems are and treat the patients accordingly. For example, if a specific neck muscle(s) is very tight and stiff, a trained physical therapist can evaluate for that by doing specific clinical tests. Once the actual problem has been identified, they can utilize various manual therapy techniques, to reduce the muscle spasm and incorporate appropriate stretches to relax that particular muscle group. They can also evaluate other postural reasons causing increased tightness in that muscle.
Similarly, if there is a problem of misalignment of the first rib then that too can be determined by doing specific clinical tests. Certain mobilizations can be done to relieve the problem, often with the help of chiropractic care.
Thoracic outlet problems tend to be a source of discomfort simply because they are not correctly diagnosed and treated. But with proper physical therapy evaluation and treatment, they can resolve effectively and completely, rather than temporarily.
Do you need help with your health?
We have the diagnostic and testing tools, the clinical experience, and a different medical approach to discovering the root cause of why you have the symptoms that are bothering you. As long as you are ready to make some dietary and lifestyle changes, we can help you. We will "hold your hand" through the changes, step by step, to make each step an easy one. We are located in Clearwater, FL, at the corner of Ft. Harrison Ave. and Magnolia St. There is plenty of parking space. If it is not convenient for you to come to Root Cause Medical Clinic, we offer telehealth/telemedicine consultations to residents of certain states. Call us for details.   
Contact us for a Consultation – Call 727-335-0400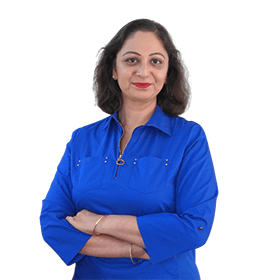 Dr. Rupa Chakravarty
DPT, OCS
Director of Physical Therapy at Root Cause Medical
Doctor of Physical Therapy, Orthopedic Certified Specialist
Dr. Chakravarty has numerous certifications for different techniques in Physical Therapy practice. She employs an extensive array of manual as well as exercise techniques to manage her patients' symptoms during their course of therapy.
Read Full Bio