Grain-free Sugar-free Granola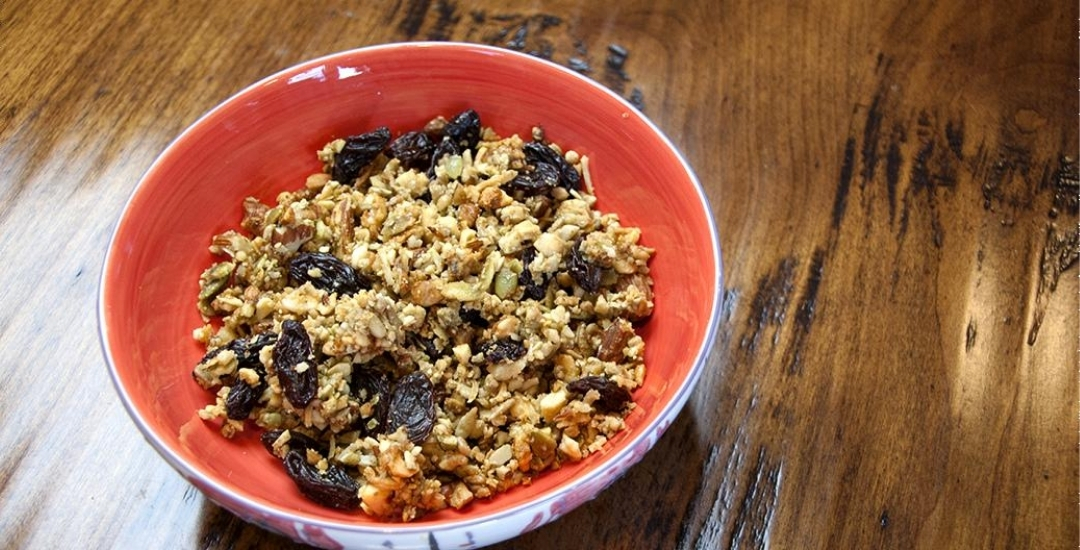 I have always loved granola. My mother used to make one for me as a kid and it continued to one of my favorite "care packages" in college. It's easy to send in the mail as there's nothing to melt or get broken. Of course in hindsight it was made with gluten-containing oats, brown sugar and contained sesame seeds that I happen to be allergic to, but I didn't know any of that at the time. Once we became gluten-free it was still difficult, if not impossible, to find "safe" granola due to the gluten contamination of oats. I still remember the day gluten-free oats became available. I was ecstatic – now I could eat granola again. But it turned out many in the family reacted to oats (as many who are gluten sensitive do) and even the gluten-free variety wasn't going to work. I decided to create my own with a lot of healthy nuts and seeds, no sugar, and no grains. Too many patients did poorly with grains and I wanted a nice hearty filling snack option that offered satisfaction through healthy fats and protein, but without the sugar spike. I hope you enjoy this recipe as much as we do. Organic nuts can get expensive so definitely feel free to go heavier on the seeds and lighter on the nuts if that helps. Another option, if you tolerate gluten-free oats and/or quinoa, consider adding a cup of either to further lower cost.
Ingredients
1

cup

each organic

raw almonds,

2

cups

organic

raw cashews

1

cup

organic

raw walnuts

1/4

cup

organic

raw Brazil nuts

1/4

cup

organic

raw flax seeds

1

cup

organic

raw sunflower

1

cup

organic

raw pumpkin seeds

Scant 1/2 cup organic coconut oil

refined or unrefined

1/2

cup

honey

2

tsp

vanilla

3/4

cup

shredded organic coconut

1/2

tsp

Himalayan sea salt sprinkled on top

2

cups

organic raisins
Instructions
Preheat oven to 275 degrees.

Total cook time 35-40 min (stir once at halfway point).

Blend the first 4 ingredients in a food processor, pulsing until chopped into small pieces.

Empty bowl of processor and add the rest of the dry ingredients, pulsing to chop but leaving some larger pieces.

Combine all the dry ingredients together in a large metal or glass bowl.

Take a small sauce pan and over low heat melt oil and honey. Stir to combine. Remove from heat and stir in vanilla.

Add the wet ingredients to the nuts and combine thoroughly until all dry ingredients are coated. Put onto large cookie sheet lined with parchment paper and flatten.

Place into the oven for 35-40 minutes. Stir and turn over at half way point to make sure nothing is getting too dark.

When fully cooked granola is a golden brown.

Add the final three ingredients and stir to combine.

Flatten and place in refrigerator to firm up.