Butternut Squash Soup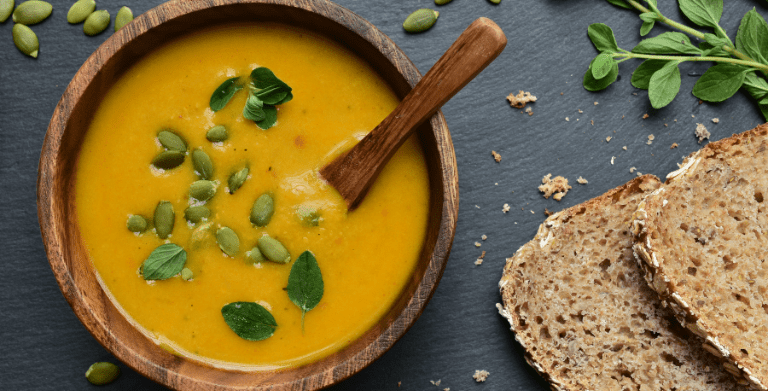 I like this recipe because it's super
simple and is able to be made in one
pot- so clean up is a piece of cake.
The soup has a sweet and creamy
texture, without any dairy, which is
amazing. If you want to make the
recipe even more nutrient-dense and
add a gut-healing aspect, swap out
the vegetable broth for 24-48 hour
bone broth. Bone broths are high in
glycine and collagen, which both
serve to nourish the cells of intestinal
lining and reduce inflammation. I like
my butternut squash soup topped
with roasted pumpkin seeds and
chopped green onion!"
Wendy Gans, MS, RDN
Registered Dietitian
Ingredients
2

tablespoons

Extra virgin olive oil

1

large yellow onion

chopped

½

teaspoon

sea salt

1

(3-pound) butternut squash, peeled, seeded, and cubed

3

garlic cloves, chopped

1 

tablespoon

chopped fresh sage

½ 

tablespoon

minced fresh rosemary

1 

teaspoon

grated fresh ginger

Freshly ground black pepper

Chopped parsley

For serving

Toasted pepitas

For serving

Crusty bread

For serving
Instructions
Heat the oil in a large pot over medium heat. Add the onion, salt, and several grinds of fresh pepper and sauté until soft, 5 to 8 minutes. Add the squash and cook until it begins to soften, stirring occasionally, for 8 to 10 minutes.

Add the garlic, sage, rosemary, and ginger. Stir and cook 30 seconds to 1 minute, until fragrant, then add 3 cups of the broth. Bring to a boil, cover, and reduce heat to a simmer. Cook until the squash is tender, 20 to 30 minutes.

Let cool slightly and pour the soup into a blender, working in batches if necessary, and blend until smooth. If your soup is too thick, add up to 1 cup more broth and blend. Season to taste and serve with parsley, pepitas, and crusty bread.
Notes
Is Your Health At Its Optimum?
If you are suffering from any of the problems listed above—contact us for a consultation. Call (727) 335-0400 to schedule. Our medical clinic is located in Clearwater, FL. If you are not local to us, our medical team treats patients from across the country and internationally via telemedicine consultations. We help you find the underlying root cause of your health issues.
To your health,
Dr. Vikki Petersen
DC, CCN
IFM Certified Practitioner
Founder of Root Cause Medical Clinic
Author of the books:
"The Gluten Effect"
"
Hiatal Hernia Syndrome
",
and of the e-book "Gluten Intolerance – What You Don't Know May Be Killing You!"