Healthy Sugar Cookies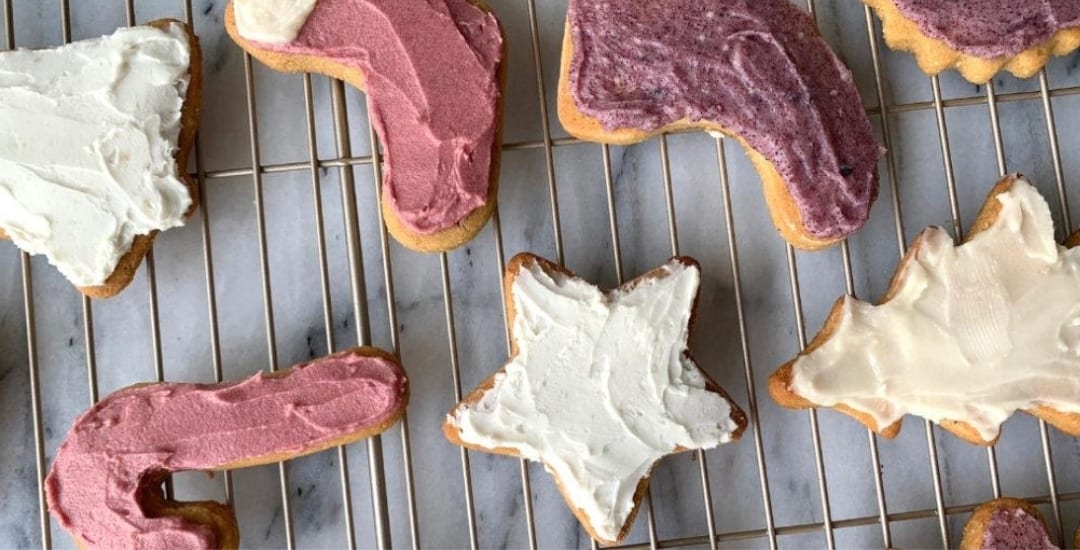 Can a sugar cookie really be healthy? A typical sugar cookie contains unhealthy, gluten-filled white flour, white sugar and butter – 3 of the most unhealthy ingredients. But sometimes you or a family member is craving something sweet and satisfying during the holidays or for a birthday. What can you do? Try this very easy recipe. These cookies are delicious, satisfying and sweet while still being gluten-free, dairy-free, refined sugar-free and fully plant-based (unless you opt to use eggs). Most sugar cookie recipes call for 2.5 cups of refined white sugar in their recipes; this recipe contains less than one-third that amount, plus we used coconut sugar. The benefits of coconut sugar is that it's an unrefined sugar that retains its vitamins and minerals, short chain fatty acids plus the fiber inulin. It's the fiber content of coconut sugar that yields its lower glycemic index. While those are some nice benefits, the bottom line is that it's still sugar and therefore should be used in extreme moderation and only on special occasions. Lastly, the brown color of coconut sugar gives the cookies a more golden color than the typical stark-white sugar cookie. This recipe is courtesy of Rachel, our Registered Dietician. Enjoy!
Ingredients
2 1/4

cup

Bob's Red Mill organic almond flour

1/2

cup

Bob's Red Mill organic coconut flour

3/4

cup

organic refined coconut oil

or vegan butter substitute, we used Miyoko's vegan butter made from coconut oil and cashews, softened

3/4

cup

organic coconut sugar

2

tsp

organic vanilla

2

organic flax eggs

or 2 pasture raised eggs

1/2

tsp

baking soda'

1/2

tsp

Himalayan sea salt
Instructions
Preheat oven to 350.

Get about 6 tablespoons of hot water and add to it 2 tablespoons finely ground organic flax seeds. Stir and let sit a few minutes until thickened.

In a bowl, mix the coconut oil, sugar, flax eggs (or regular if you're using), and vanilla extract.

In a separate bowl, combine the baking soda, salt, almond flour and coconut flour. Using a hand mixer, add the dry mixture to the wet mixture.

Roll the dough into a ball and refrigerate for 30 minutes or more.

Sprinkle a clean surface with coconut flour and roll the dough out until it has reached the desired thickness (roughly 1/4 of an inch). Cut out the cookies with whatever cutter shapes you have.

Bake for 10-12 minutes, until they start to brown.

Transfer the cookies to a cookie rack and allow them to cool completely before frosting.
Notes
Is Your Health At Its Optimum?
If you are suffering from any of the problems listed above—contact us for a consultation. Call (727) 335-0400 to schedule. Our medical clinic is located in Clearwater, FL. If you are not local to us, our medical team treats patients from across the country and internationally via telemedicine consultations. We help you find the underlying root cause of your health issues.
To your health,
Dr. Vikki Petersen
DC, CCN
IFM Certified Practitioner
Founder of Root Cause Medical Clinic
Author of the books:
"The Gluten Effect"
"
Hiatal Hernia Syndrome
",
and of the e-book "Gluten Intolerance – What You Don't Know May Be Killing You!"
Notes
For the frosting we used Simple Mills vanilla frosting, which has 8g of sugar per 2 tablespoons and only 8 ingredients, compared to 19 grams of sugar in most store-bought versions. I mixed in beet powder from Suncore Foods to give the frosting a red color, but any powder would work.