Spinach and Artichoke Dip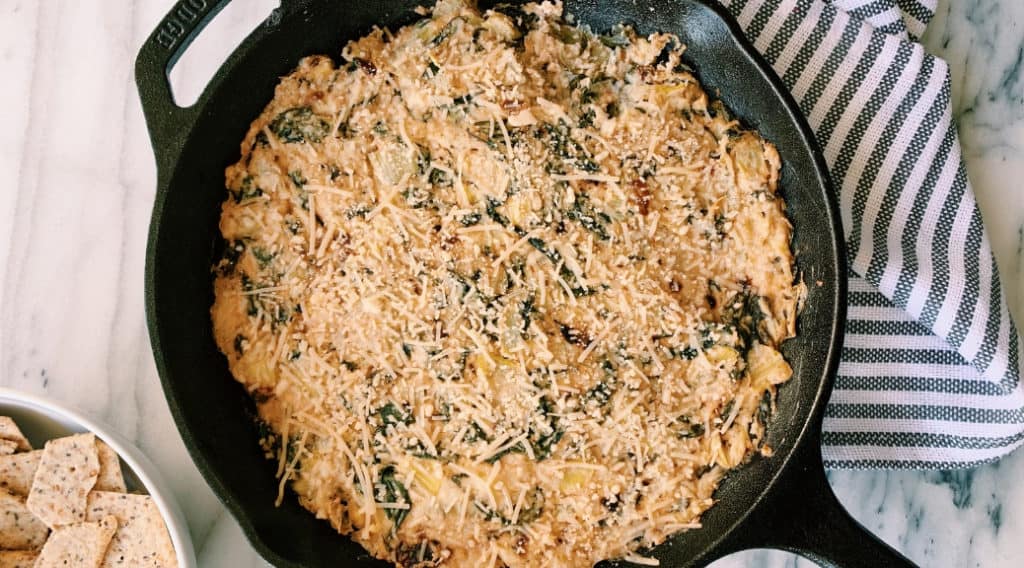 Delicious dip with all the "healthy" and none of the "bad"You know how dips are – addicting, creamy deliciousness that it's all but impossible to stop eating. Historically, spinach artichoke dips are no different. The spinach and artichoke part makes it sound healthy, but then along comes the sour cream and cream cheese and all is lost.Fear not, dip lovers. Our super smart Registered Dietitian has taken all the "bad" out of this traditional dip and left all the delicious creamy texture (while being plant-based). It's almost miraculous! Enjoy this dip at your next dinner party, sports event or just as a nice appetizer for the family.
Ingredients
14

oz

can organic artichoke hearts

drained, rinsed & chopped

1

cup

dairy free parmesan cheese

1

container of kite hill greek-style yogurt

5.3oz

8

oz

container of kite hill cream cheese

2

cloves

of organic garlic

minced

1/2

organic yellow onion

diced

1 5

oz

bag of organic spinach

1

tablespoon

organic avocado oil
Instructions
Preheat oven to 350.

In a skillet, add the avocado oil. Once warm, sauté the onion and garlic until tender.

Add the spinach to the skillet, stirring until wilted.

In a separate bowl, combine the greek-style yogurt, cream cheese, artichoke hearts, and parmesan – save a small bit of parmesan to sprinkle over the top of the dish.

Add the sautéed veggies to the mixture, and stir well.

Transfer the mixture to a 8×8 oven-safe pan, or the skillet used to sauté the veggies if it is oven-safe.

Top with the remaining cheese and bake for 20 minutes.

Serve with gluten-free Simple Mills crackers, carrots or any raw vegetable of your choice.
Notes
Is Your Health At Its Optimum?
If you are suffering from any of the problems listed above—contact us for a consultation. Call (727) 335-0400 to schedule. Our medical clinic is located in Clearwater, FL. If you are not local to us, our medical team treats patients from across the country and internationally via telemedicine consultations. We help you find the underlying root cause of your health issues.
To your health,
Dr. Vikki Petersen
DC, CCN
IFM Certified Practitioner
Founder of Root Cause Medical Clinic
Author of the books:
"The Gluten Effect"
"
Hiatal Hernia Syndrome
",
and of the e-book "Gluten Intolerance – What You Don't Know May Be Killing You!"