Breakfast Energy Cereal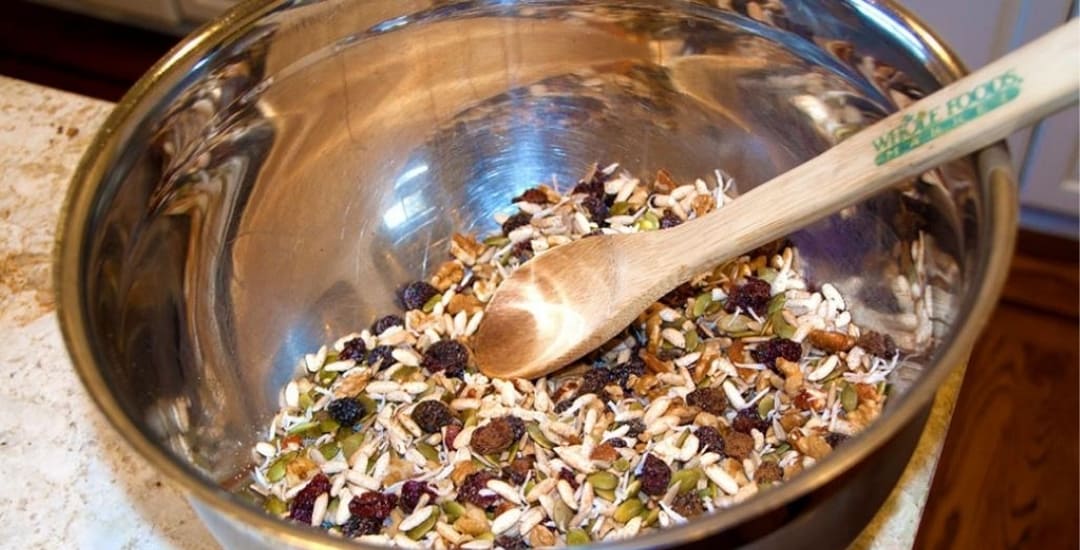 There are a lot of cereals on the market. They are pre-packaged and therefore typically have less than healthy ingredients. They'll make you fat and cause you to crave sugar; not a great way to start your day! Even if they're pretty "pure", they are not fresh. When it comes to the healthy nuts and seeds in this cereal, freshness counts. There's no faster way to turn a healthy fat into an unhealthy one than if the source is rancid. Older nuts and seeds that have been packaged and transported can go rancid. Therefore the safest bet is to buy them fresh and create your own. This is a fun and healthy cereal. It's free of pretty much all allergens and sensitivities, other than nuts of course. The inspiration for this cereal came from a restaurant in L.A. I never got a recipe for it, but I took a picture and played around with it to make it my own. You can be as creative as you want adding the nuts and seeds of your choice, along with a variety of dried fruit. It has a base of puffed rice but you could use millet or any plain gluten-free grain you wish. Why are walnuts and pecans the nuts used? The healthiest, anti-cancer nuts are walnuts, pecans and peanuts – in their raw and organic form. Why are cranberries and dried cherries used? All berries are good for you, but did you know cranberries are one of the best for providing healthy antioxidants? Of all the dried fruit, cherries are at the top for their health benefits – specifically heart health and lowering cholesterol. Just a bit better was goji berries, so you can substitute those, and just below the cherries were dried apples, so that's another healthy option for this cereal. Organic always, if you please, we don't need any sulfur dioxide to toxify our healthy cereal. As with all my recipes, I'm always strategically adding ingredients that provide the very best health benefits. Please let me know how you enjoy this one! For a heavier breakfast or snack option, check out our granola recipe.
Buon appetito!
Ingredients
1

cup

organic puffed rice – the ingredients should say "rice" – that's it. Another option is puffed millet.

1

cup

organic sunflower seeds

1

cup

orgnaic pumpkin seeds

1/2

cup

organic raw pecans

1

cup

organic raw walnuts

1/2

cup

dried organic cherries – no added sugar

1/2

cup

dried organic cranberries – no added sugar

1/2

cup

organic shredded coconut

1/4

cup

organic coconut oil

melted

1/3

cup

organic honey

1

tsp

cinnamon

1/2

tsp

vanilla

1/2

teaspoon

Himalayan sea salt
Instructions
Preheat over to 275 degrees.

Place all dry ingredients in a large bowl. Mix together well.

Add melted oil and honey. Mix well.

Place cereal on a large cookie sheet lined with parchment paper.

Put in oven for about 20-30 minutes, until just golden brown. Turn cereal over at halfway point to prevent burning.
Notes
Is Your Health At Its Optimum?
If you are suffering from any of the problems listed above—contact us for a consultation. Call (727) 335-0400 to schedule. Our medical clinic is located in Clearwater, FL. If you are not local to us, our medical team treats patients from across the country and internationally via telemedicine consultations. We help you find the underlying root cause of your health issues.
To your health,
Dr. Vikki Petersen
DC, CCN
IFM Certified Practitioner
Founder of Root Cause Medical Clinic
Author of the books:
"The Gluten Effect"
"
Hiatal Hernia Syndrome
",
and of the e-book "Gluten Intolerance – What You Don't Know May Be Killing You!"