Chickpea Vegan Meatloaf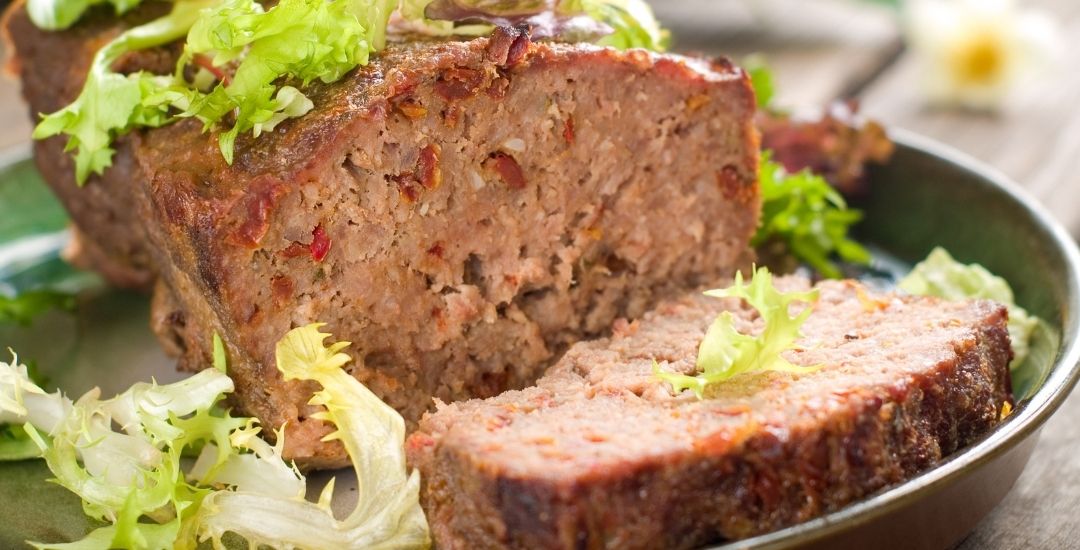 Chickpeas make this version of the thanksgiving meatloaf extraordinarily healthy and delicious! It is made from a base of perfectly seasoned chickpeas, baked just right and topped with a flavorful maple glaze. It's not quite a classic meatloaf. It's better.
Ingredients
2

cans

chickpeas

If you prefer fresh, you need 14 ounce or 400 grams precooked

1

medium

onion

2

medium

celery stalks

2

medium

carrots

2

cloves

garlic

2

cups

panko bread crumbs

1.5

cup

unflavored soy or almond milk

2

tablespoons

vegan Worcestershire sauce

2

tablespoons

soy sauce or tamari

2

tablespoons

olive oil

2

tablespoons

ground flax seeds

2

tablespoons

tomato paste

1/4

teaspoon

black pepper
For the Maple Glaze
1/4

cup

tomato paste

2

tablespoons

maple syrup

2

tablespoons

apple cider vinegar

1

tablespoon

soy sauce or tamari

1

teaspoon

paprika
Instructions
Preheat oven to 375°F. Lightly oil a 9 inch loaf pan and arrange a strip of parchment paper width-wise along the center, with just a bit hanging over the sides.

Working in batches if needed, place all the meatloaf ingredients into food processor bowl and pulse until chickpeas are broken up and ingredients are well mixed, stopping to scrape down sides of bowl as needed. Do not overblend. If you're working in batches, transfer each batch to a large mixing bowl when complete and then mix by hand.

Press mixture into prepared loaf pan and bake 30 minutes.

While meatloaf bakes, stir glaze ingredients together in a small bowl.

Remove loaf from oven after 30 minutes and spoon glaze overtop of loaf. Bake another 20-25 minutes. Remove from oven and allow to cool at least 10 minutes before cutting.
Notes
Is Your Health At Its Optimum?
If you are suffering from any of the problems listed above—contact us for a consultation. Call (727) 335-0400 to schedule. Our medical clinic is located in Clearwater, FL. If you are not local to us, our medical team treats patients from across the country and internationally via telemedicine consultations. We help you find the underlying root cause of your health issues.
To your health,
Dr. Vikki Petersen
DC, CCN
IFM Certified Practitioner
Founder of Root Cause Medical Clinic
Author of the books:
"The Gluten Effect"
"
Hiatal Hernia Syndrome
",
and of the e-book "Gluten Intolerance – What You Don't Know May Be Killing You!"
Notes
The longer this sits, the firmer it gets. If it initially feels a bit soft for your liking, let it sit a for a few minutes or prep it a day in advance and reheat the day of serving. Thanks to connoisseurusveg.com for this recipe!