Creamy Roasted Cauliflower Soup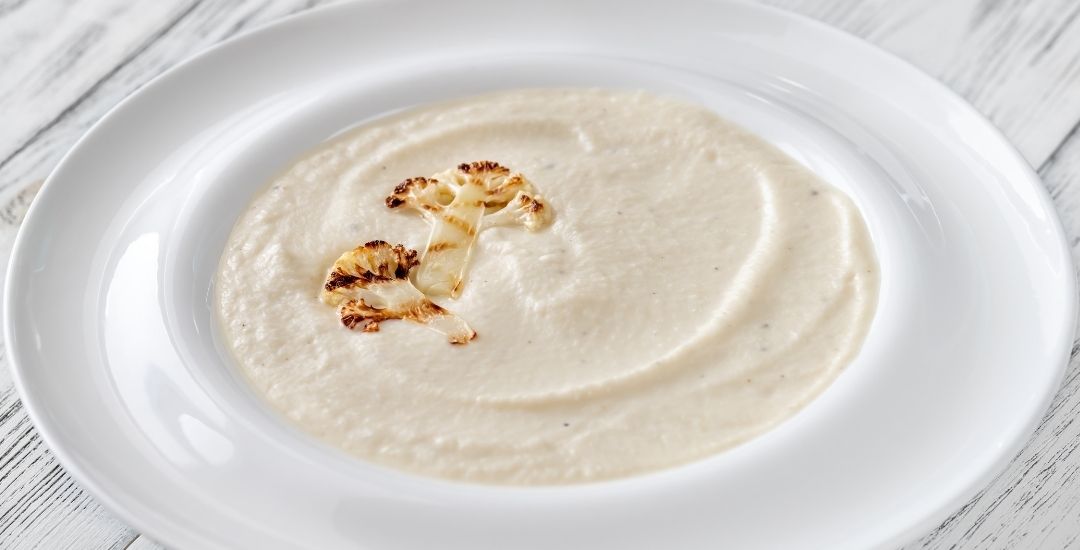 This version of the classic cauliflower soup is pure comfort in a bowl and not to mention, vegan and gluten free. You can serve this alongside your favorite salad or have it as a quick hunger fix. We love a healthy, easy meal.
Ingredients
1 - 2

lbs

head organic cauliflower

cut into florets (6 cups)

2

medium

organic russet potatoes

peeled and cubed (2 cups)

1

cup

chopped organic sweet onion

4

cloves

garlic

3 - 4

tbsp

white wine vinegar

4

cups

low-sodium vegetable broth

1/2

tsp

freshly grated nutmeg

1/4

tsp

cayenne pepper
Chopped fresh herbs, such as parsley, thyme, or basil
Freshly ground black pepper, to taste
Instructions
Preheat the oven to 450°F. Line two 15x10-inch baking pans with foil. Spread cauliflower, potatoes, onion, and garlic evenly in pans. Sprinkle 2 tablespoons of the vinegar and 2 tablespoons of water. Roast 25 to 30 minutes or until vegetables are tender and browned.

Set aside 2 cups of the roasted vegetables for garnish. Transfer the remaining vegetables to a large pot. Add broth and 3 cups of water. Bring to boiling; reduce heat. Simmer, uncovered, 15 minutes to blend flavors. Using an immersion blender, blend soup. (Or carefully transfer in batches to a blender. Cover and blend.) Stir in the remaining 1 to 2 tablespoons of vinegar, the nutmeg, and cayenne.

Serve soup topped with reserved vegetables, herbs, and black pepper.
Notes
Is Your Health At Its Optimum?
If you are suffering from any of the problems listed above—contact us for a consultation. Call (727) 335-0400 to schedule. Our medical clinic is located in Clearwater, FL. If you are not local to us, our medical team treats patients from across the country and internationally via telemedicine consultations. We help you find the underlying root cause of your health issues.
To your health,
Dr. Vikki Petersen
DC, CCN
IFM Certified Practitioner
Founder of Root Cause Medical Clinic
Author of the books:
"The Gluten Effect"
"
Hiatal Hernia Syndrome
",
and of the e-book "Gluten Intolerance – What You Don't Know May Be Killing You!"