Red Lentil Marinara Pasta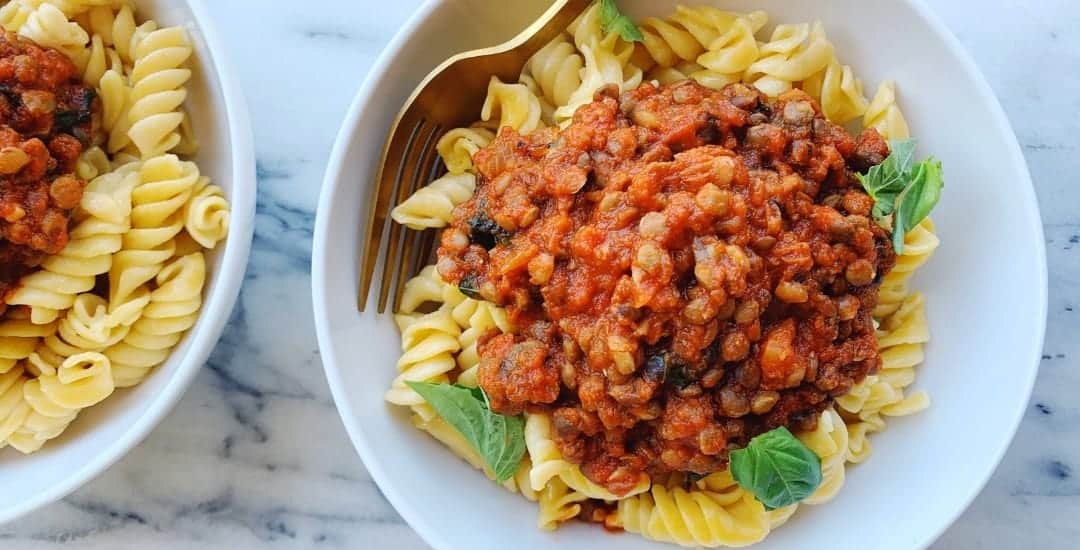 We are always looking for healthy ways to remake some of our favorite meals. For example – pasta marinara. This recipe is gluten-free, plant-based and full of protein. Did you know there are 36 grams of protein in 2 cups lentils? That makes this recipe not only bursting with Italian flavor, but also extremely healthy. This recipe is courtesy of our registered dietitian, Rachel Mistry. We hope you enjoy!
Ingredients
Ingredients:
1

box

Favorite gluten-free pasta

1/2

cup

organic onion

finely diced

2

cloves

organic garlic

minced

26

oz

organic tomato sauce

1/2

cup

fresh organic basil

chopped

2

cups

organic lentils

uncooked

2

tsp

fresh organic thyme

2

tsp

Salt

2

tsp

Oregano
Instructions
Method:
Cube onions, mince garlic, and shred basil.

In a large skillet, sauté the onions and garlic in avocado oil on medium heat until translucent. About 3-5 minutes.

Add the lentils, tomato sauce, and spices to the skillet. Mix well.

Bring the mixture to a boil, then reduce to a simmer for 10 minutes, or until the lentils are cooked throughout.

Serve over your favorite type of pasta!
Notes
Is Your Health At Its Optimum?
If you are suffering from any of the problems listed above—contact us for a consultation. Call (727) 335-0400 to schedule. Our medical clinic is located in Clearwater, FL. If you are not local to us, our medical team treats patients from across the country and internationally via telemedicine consultations. We help you find the underlying root cause of your health issues.
To your health,
Dr. Vikki Petersen
DC, CCN
IFM Certified Practitioner
Founder of Root Cause Medical Clinic
Author of the books:
"The Gluten Effect"
"
Hiatal Hernia Syndrome
",
and of the e-book "Gluten Intolerance – What You Don't Know May Be Killing You!"