Fudgy Brownies – gluten free, dairy free, sugar free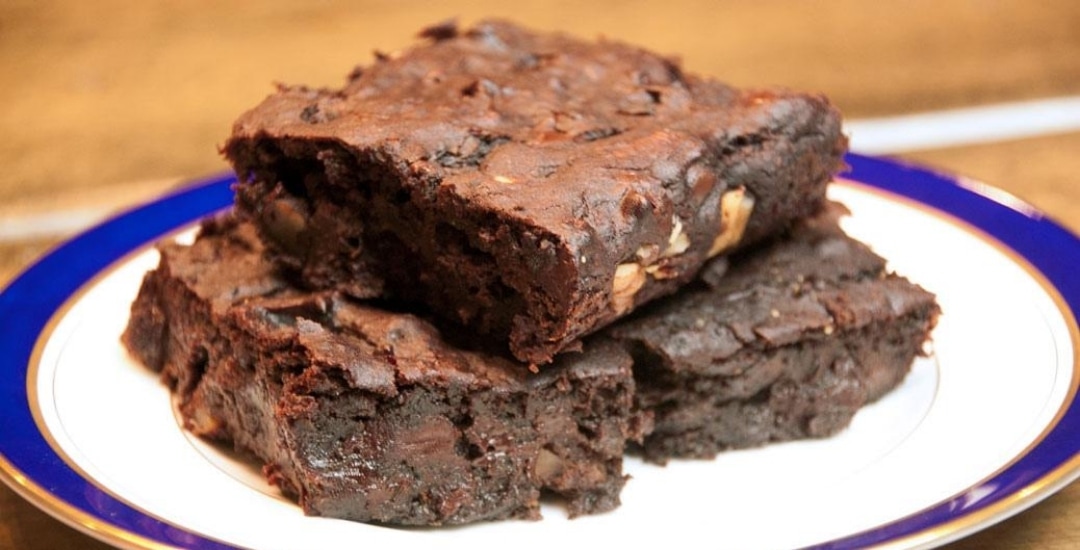 Healthy Brownies with a Twist
The first time I made these brownies I wasn't yet completely plant based in my diet. I thought I was doing well with gluten free and dairy free and minimal sugar! My children say one day all I'll eat is dirt and sticks, but I think they're exaggerating… I mean, where are the nutrients?? I like to keep desserts to a minimum, but sometimes you just want something sweet while still maintaining your healthy diet. After several tries I mastered how to make these fudgy and rich without the eggs, so if you're avoiding eggs the plant based version is noted below, making it a super healthy version of a ridiculously fudgy, chocolatey, decadent brownie. The secret ingredient really boosts the health aspect, not to mention packing a protein punch. These are very fast to whip up and your family and friends will likely never guess the secret. I remember having a guessing game at a dinner party I hosted. There were a lot of interesting guesses as to what the secret ingredient might be, but no one actually got it right. When I told them they were pretty shocked! I do recommend using cacao vs cocoa powder – small spelling difference, big health difference! The brownies will not be super sweet due to the use of healthier coconut or date sugar, but once again, much healthier. You can use pecans if you prefer them to walnuts, both nuts have great anti-cancer properties. Let me know how you enjoy these! (And see if your guests can figure out the secret ingredient!)
Buon Appetito!
Ingredients
Preheat over to 350 degrees.

Grease a glass 8 x 8″ pan with the oil of your choice

1

can or box

approximately 15 oz organic black beans (rinsed well)

3

organic eggs – for a plant-based recipe substitute the following:

For the 1st egg make a flax egg

helpful in leavening, makes it rise, plus binding: combine 1 tablespoon organic ground flax mixed in 3 tablespoons warm water, let sit for 10 minutes until thick.

For the 2nd egg: mash 1/4 cup ripe avocado

good for binding – ripe but not over-ripe. An "off" flavor will ruin your brownies.

For the 3rd egg: take 1 teaspoon of baking soda mixed with 1 tablespoon apple cider vinegar

a good leavening agent. Once it's done "fizzing", add to wet ingredients.

Note: The above are 3 options for each egg called for in the original recipe. There are other options available as well:

Arrowroot powder –

good for binding Mix 2 tablespoons of preferred starch with 3 tablespoons water.

Nut Butter –

good for binding The creamy texture works well to bind cookies, pancakes, and brownies. Use 3 tablespoon organic creamy nut butter to replace one egg.

Chia egg

helps in leavening and binding –prepared exactly the same as a flax egg above, just substitute ground chia.

Baking Powder

leavening agent – if the recipe doesn't already call for baking powder, replace one egg by mixing 2 tablespoons of water with 1 tablespoon oil of choice plus two tablespoons of baking powder.

Mashed Banana

binding agent – take half an organic banana and mash it well to replace an egg. It works well with cookies, pancakes and brownie. Much like the avocado option, ensure your banana is nicely ripe but not over ripe such that it will impart an odd flavor.

Applesauce

for moisture – use ¼ cup unsweetened organic applesauce to replace 1 egg.

Silken Tofu

for moisture – use 1/4 cup organic silken tofu to replace one egg.

3

tablespoons

of avocado oil or other healthy oil such as refined coconut or almond

3/4

cups

organic coconut or date sugar

1/4

cup

organic cacao powder

1

teaspoon

pure vanilla

1/2

teaspoon

baking powder

1/8

teaspoon

Himalayan sea salt

1/2

cup

high quality dark chocolate chips – dairy and soy free

optional – but they do make it more decadent. You can also make your own sugar free chocolate. Lily's chocolate chips is sweetened with stevia.

1/2

cup

organic raw walnuts – chopped
Instructions
Mash the beans with a potato masher, or alternatively blend them in a blender with the oil to break them up.

Take all the rest of the ingredients, except the chocolate chips and walnuts, and combine in blender or food processor until smooth.

Mix in the chips and nuts with a spoon to combine and pour into your greased pan.

Bake at 350 for 30-35 minutes until a toothpick comes out mostly clean. It won't be dry, but it shouldn't be gooey either.

Cool on a cooling rack for about 20 minutes.
Notes
Is Your Health At Its Optimum?
If you are suffering from any of the problems listed above—contact us for a consultation. Call (727) 335-0400 to schedule. Our medical clinic is located in Clearwater, FL. If you are not local to us, our medical team treats patients from across the country and internationally via telemedicine consultations. We help you find the underlying root cause of your health issues.
To your health,
Dr. Vikki Petersen
DC, CCN
IFM Certified Practitioner
Founder of Root Cause Medical Clinic
Author of the books:
"The Gluten Effect"
"
Hiatal Hernia Syndrome
",
and of the e-book "Gluten Intolerance – What You Don't Know May Be Killing You!"