No Bake Pumpkin Pie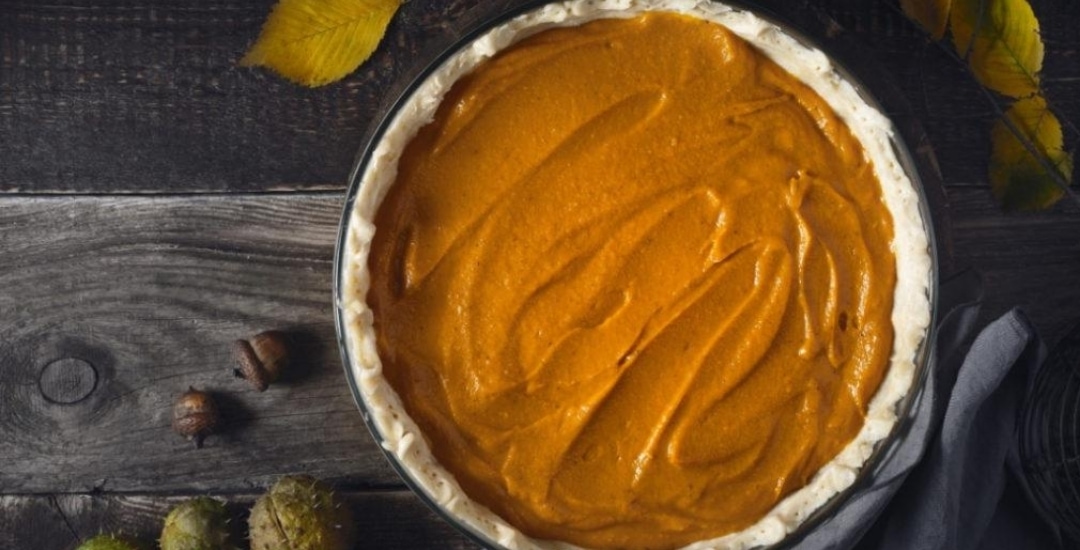 I love pumpkin pie. But when I think about it I immediately get concerned about the crust. Crust isn't the easiest undertaking at the best of times, but when you're talking about a gluten-free, dairy-free, sugar-free version, you're really setting yourself up for a challenge. Is the crust flaky? Soggy? Too thick? Too thin? This recipe takes ALL the stress out of crust making. It truly couldn't be simpler because it's raw. You just press it into a pie pan – 4 very healthy ingredients. It's sweet but has none of the "bad stuff". The filling is equally delicious, creamy, full of pumpkin and spices, yet contains no dairy or sugar. You'll be surprised at the ease of this creamy pie and how well loved it will be. It's definitely a great addition to your dessert options, no matter what time of year it is. Consider topping the pie with some coconut whipped cream when serving guests. Please let us know how you enjoy it.
Ingredients
1

cup

dates

pit and stem removed

1

cup

organic raw cashews

unsalted

½

cup

raw organic pecans or pecan pieces

1

teaspoon

organic cinnamon

1 16

ounce

can organic pumpkin puree

½

cup

organic coconut flour

½

cup

organic coconut sugar

2

teaspoons

pumpkin pie spice
Instructions
Soak the dates, cashews, and pecans in boiling water for 5 minutes.

Drain the dates and nuts, then blend with the cinnamon seasoning in a food processor until smooth.

Pour the mixture into a parchment-lined pie dish and flatten

Mix the pumpkin puree, coconut flour, coconut sugar and pumpkin pie spice in a bowl,

stirring until well combined.

Pour the pumpkin mixture over the crust layer, then store in the freezer until solid.

Let pie defrost for about one hour prior to serving
Notes
Is Your Health At Its Optimum?
If you are suffering from any of the problems listed above—contact us for a consultation. Call (727) 335-0400 to schedule. Our medical clinic is located in Clearwater, FL. If you are not local to us, our medical team treats patients from across the country and internationally via telemedicine consultations. We help you find the underlying root cause of your health issues.
To your health,
Dr. Vikki Petersen
DC, CCN
IFM Certified Practitioner
Founder of Root Cause Medical Clinic
Author of the books:
"The Gluten Effect"
"
Hiatal Hernia Syndrome
",
and of the e-book "Gluten Intolerance – What You Don't Know May Be Killing You!"
Notes
This recipe was inspired by our Registered Dietician, Rachel.