Oven Roasted Vegetables Recipe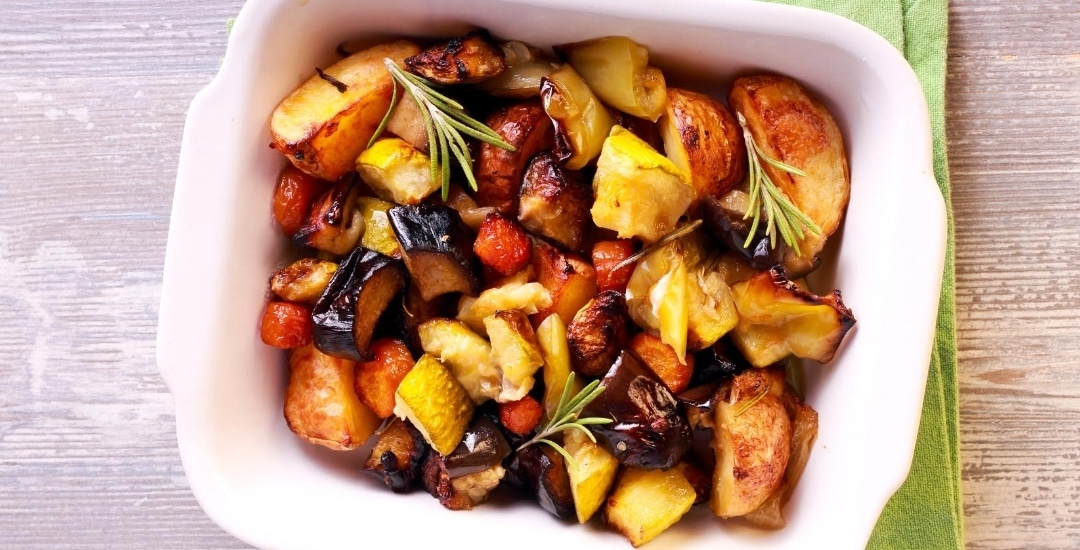 It's nice when your oven can do all the work for you. Whether you are doing other chores around the house or just waiting for some rice to cook, this recipe is one that can taste different each time you make it depending on the vegetables you have on hand. Depending on whether you like leftovers, which in this case are delicious, you can decide the quantity of vegetables to cook. Harder vegetables such as potatoes, squash, parsnips and carrots will take about 30-40 minutes to roast depending on their size. Cauliflower, asparagus, zucchini and mushrooms will cook in about 15-20 minutes, so it's fine to add them during the cooking process to prevent them from getting overcooked. Have fun trying different combination of vegetables until you find the ones you like best.
Let me know what those are!
Enjoy!
Ingredients
Use any combination of the following organic vegetables

unpeeled, washed, and cut into bite-sized

pieces:

2-3

pounds

combined: Eggplant

zucchini, small red potatoes, red onion, yellow or green summer squash, butternut squash, sweet potatoes, cauliflower, mushrooms, asparagus, carrots, Brussels sprouts

4

organic garlic cloves

lightly crushed with a side of a knife to bring out the flavor

2-3

Tablespoons

organic avocado or almond oil

1 1/2

teaspoons

organic dried oregano or 1/2 teaspoon organic dried thyme

1/2

teaspoon

organic dried rosemary

1/2

teaspoon

organic dried basil

2

teaspoons

Himalayan sea salt

1/2

teaspoon

pepper
Instructions
Preheat oven to 425 degrees.

Cut vegetables into bite-sized pieces.

Place vegetables in a large roasting pan and toss with crushed garlic cloves, oil and sprinkle with rosemary, oregano (or thyme), basil, salt and pepper.

Spread in a single layer, leaving space between the vegetables, and roast approximately 20-40 minutes until veggies are fork tender and slightly brown, flipping them once at the halfway point of cooking.

Add salt and pepper to taste.

Serve while warm, or use cold leftovers in a salad or for lunch the next day.
Notes
Is Your Health At Its Optimum?
If you are suffering from any of the problems listed above—contact us for a consultation. Call (727) 335-0400 to schedule. Our medical clinic is located in Clearwater, FL. If you are not local to us, our medical team treats patients from across the country and internationally via telemedicine consultations. We help you find the underlying root cause of your health issues.
To your health,
Dr. Vikki Petersen
DC, CCN
IFM Certified Practitioner
Founder of Root Cause Medical Clinic
Author of the books:
"The Gluten Effect"
"
Hiatal Hernia Syndrome
",
and of the e-book "Gluten Intolerance – What You Don't Know May Be Killing You!"
Notes
Some recipes and videos contain affiliate links for products we use and believe our patients and readers would enjoy. If you purchase such a product via the link we receive a small commission at no extra cost to you. It's similar to a referral fee and helps us to pay the videographer and the grocery bill. Thank you!