Mushroom Stroganoff – Vegan and Gluten-free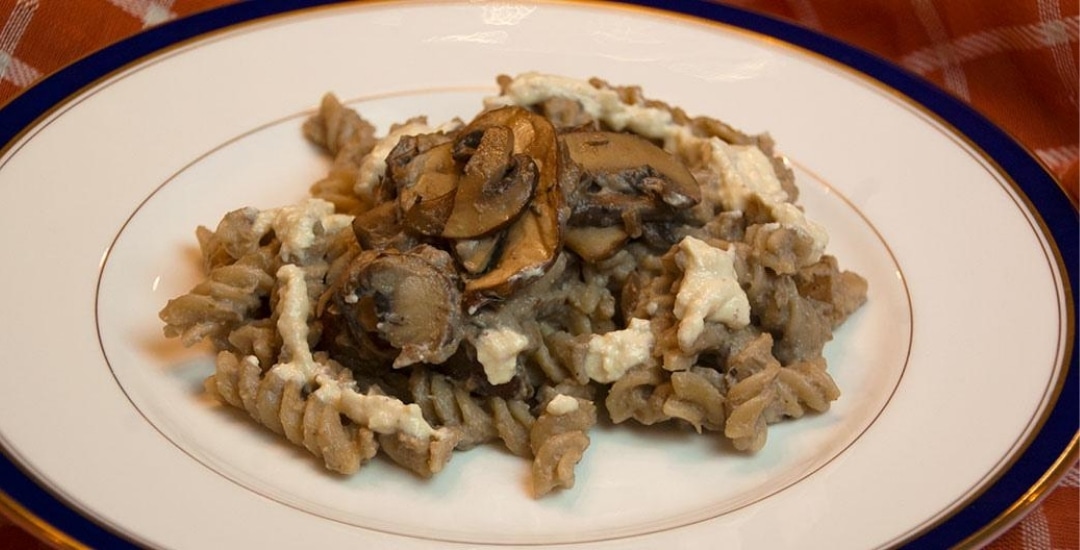 I used to love mushroom stroganoff. Of course I loved anything that involved gluten and dairy (can you guess what foods I'm sensitive to? LOL!), and pasta was a particularly favorite version of gluten. Therefore mushroom stroganoff definitely fit all the categories: noodles covered in creamy, mushroom goodness with a dollop of sour cream, as if it needed more dairy! Once you change your diet as radically as I changed mine, there's definitely certain foods and dishes you feel you'll never see again. I don't know why I never even thought to create my own version, but recently when my husband said he was craving cream of mushroom soup, I realized it would be pretty easy to make plant-based. It came out great, which reminds me I need to put up that recipe as well. While in the midst of creating the recipe the "soup" was very thick. Before I thinned it out I tasted it and the flavor reminded me of my old favorite, mushroom stroganoff. I was committed to the soup at that moment, but I decided that I would take the foundation of the soup and see if I could recreate stroganoff. My family loved it and I hope you will too. The extra sour cream that is part of traditional stroganoff was created through a synthesis of about 3 or 4 different recipes I viewed online, plus my own input. That recipe is just below.
Let me know how you enjoy this and if you come up with any variations you enjoy.
Buon Appetito!
Ingredients
1

box gluten-free noodles or rotini pasta – may favorite is Jovial pasta. I wouldn't use a spaghetti; the sauce would be too heavy for it.

1

large organic shallot

or 2 small- finely minced

2

cloves

organic garlic – minced

3

cups

of chopped organic crimini mushrooms – or your favorite organic mushrooms

1

Tbs

organic avocado oil

2

Tbs

white wine

optional – all the alcohol gets cooked off; it just adds some flavor to the mushrooms

1/4

tsp

of organic oregano

3/4

tsp

of organic thyme

1 32

oz

box of organic vegetable broth – you may not use the full amount.

1

cup

organic raw cashews

Salt and pepper to taste

Dr Vikki's vegan sour cream – see recipe here
Instructions
Put a large pot of water on to boil. Add about 2 tablespoons of salt to the water.

While waiting for the water to boil, chop your mushrooms, shallots and garlic.

Put the oil in a large saute pan and heat on medium. Once warm, add the shallots and cook about 3 minutes until softened.

Raise the heat to medium-high and add the mushrooms. Heat needs to be fairly high under mushrooms to pull the water out from them and brown them.

Add the herbs plus the white wine, if you're using at this point.

Your water should be boiling; add the pasta and make sure you don't overcook it.

Once the mushrooms have been cooking about 4 minutes and are getting browned, add the garlic for an additional minute of two. Be careful not to burn the garlic. If anything is starting to get too brown, use a splash of vegetable broth to prevent any burning or sticking.

Take 3/4 of the cooked mushrooms and place in a high speed blender with 2 cups of the vegetable broth and cashews. The broth is not heated so no worries about blending a hot liquid.

Blend on high, adding more veggie broth as needed until smooth and the desired thickness. The sauce should be fairly thick and very creamy.

Add salt and pepper to taste.

Place the sauce back into the original saute pan to heat.

The pasta should be done about this time. Strain it and add it to the heated sauce.

Top with a dollop of sour cream and serve immediately.