Soba Noodle Salad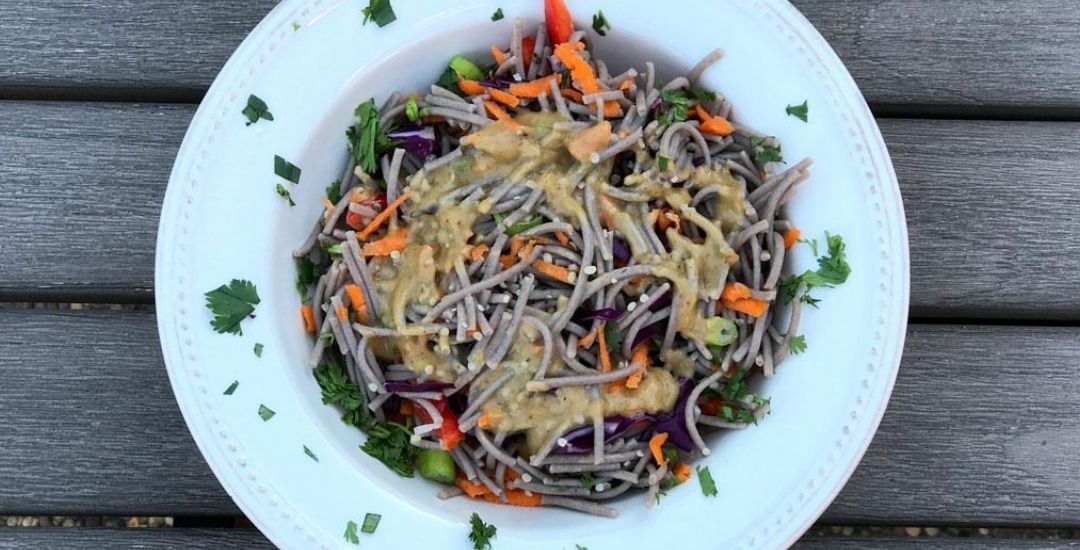 Soba Noodle Vegetable Salad
If you're trying to avoid refined carbohydrates you may think pasta salad is a thing of the past. It doesn't need to be. This salad is incredibly filling AND healthy, utilizing buckwheat noodles, a fun and flavorful dressing and uber healthy veggies. Don't let the name fool you, buckwheat is completely gluten-free. In fact, buckwheat is a seed not a grain, despite that confusing "wheat" word in its name. Therefore, this recipe is grain-free and refined carbohydrate free.Buckwheat is a resistant starch, meaning it tends to make its way down into your colon and feed your healthy gut bacteria, something you definitely want. For more on resistant starch read this blog, "Starch you don't have to resist". Buckwheat is good for your heart through its ability to lower cholesterol and blood pressure; it's an excellent source of fiber which makes it good in preventing many diseases including cancer; it reduces your risk of diabetes, and it high in antioxidants, vitamins and minerals. Make sure when you buy buckwheat noodles they are 100% buckwheat and thereby gluten-free. Some noodles in the market mix wheat with the buckwheat – please avoid those. When cooking buckwheat noodles avoid salting the water, don't overcook (follow package directions), and once drained, immediately put them in a bowl of very cold water. Stir the noodles around with your hands in the cold water to rinse off their starch for just a minute or so and then re-drain. This procedure will prevent them from sticking together. Any vegetable you want to add is fine, but as always, I suggest the ones that provide the best nutrition, those of the cruciferous and allium families. They are the best anti-cancer, anti-inflammatory vegetables you can eat. The sauce (click here to get your coconut aminos, date syrup and gluten-free Tamari.) can be made more or less spicy depending on whom you are feeding – play with it and feel free to send me the combination you enjoy most.Please let me know how you enjoy this and what varieties you come up with.
Ingredients
½

package of buckwheat noodles

cooked, drained and rinsed in cold water

½

organic red pepper

sliced thinly

2

organic green onions cut into ¼ to 1/2 inch rounds

2

cups

organic purple cabbage

sliced thinly or chopped

1

small organic carrot

grated

1-2

tablespoons

organic cilantro chopped
Sauce
1

scant Tablespoon organic almond butter

1

scant Tablespoon organic avocado oil

1

teaspoon

organic gluten-free Tamari

2

teaspoons

organic coconut aminos

2

teaspoons

organic lemon juice

2

pinches

organic ginger powder

¼

teaspoon

organic date syrup

optional: maple syrup, but date is so much healthier

1/2

teaspoon

red pepper flakes

Optional - for the "adult palate"
Instructions
Put on a pot of boiling water. Do not add salt to the water.

Add buckwheat noodles and cook about 8 minutes, according to package directions – don't overcook.

While the noodles are cooking, chop and grate your veggies.

Drain the noodles and then immerse in a bowl of very cold water. Stir noodles around with your hands for a minute or two, this will remove excess starch and prevent them from sticking together. Re-drain the noodles.

Mix up the sauce by placing all ingredients into a bowl and whisk together with a fork. Taste and add more lemon juice (lightens and brightens) or coconut aminos (lightly sweetens) as needed.

You can combine the dry ingredients in advance and add the sauce later when you're ready to eat.
Notes
Schema/Recipe SEO Data Markup by Yummly Rich Recipes