Vegan Pad Thai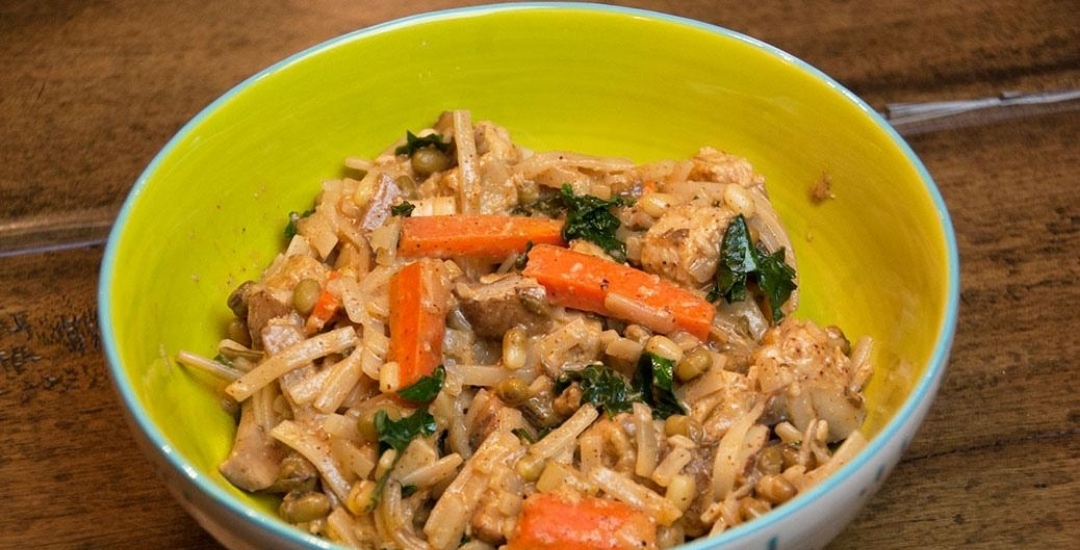 Do you love Pad Thai?
My family does. Traditionally it's a Thai noodle dish that is fried and contains eggs and a fish sauce. The only thing that "works" about the traditional Pad Thai is it's gluten-free. Initially when we discovered a problem with gluten, anything naturally gluten-free that could be found in a restaurant was very exciting. Pad Thai was one such dish.Of course time marched on and we became dairy-free (Pad Thai still fit the bill) and then plant-based. It was this latter evolution of our diet that caused the problem. The fish sauce was no longer going to work, I began to be concerned of the status of the tofu (it was doubtful restaurants were serving organic and therefore GMO-free) and then there was the frying – what kind of oils were they using? Typically the answer was canola or peanut, neither of which was healthy. One day I declared to my family I thought I could make a vegan version but was met with some doubtful looks. I persevered and with the help of some on-line inspiration, arrived at the recipe below. Full disclosure: this recipe is "fussy". By that I mean there are a lot of ingredients. There's nothing difficult in the preparation, it's just time consuming to measure out the long list of ingredients. If you have a friend or family member who will join you in the prep process, it becomes easy and of course more fun! Mung bean sprouts are a traditional ingredient in Pad Thai. I frequently have trouble finding them so I substitute cooked sprouted mung beans. They are very good for you, make the meal heartier and have good protein and nice anti-cancer properties. Unlike most of the meals I prepare there is nothing truly "green" in this one, unless you count the green onions. Therefore, I like the addition of the cooked mung beans for their health benefits. Of course I've been known to quietly chop some organic kale and throw it in, but don't tell anyone!
Please let me know how you enjoy this recipe. Make it your own and let me know what you come up with!
Buon Appetito!
Ingredients
8

ounces

pad thai rice noodles

6

tablespoons

organic smooth almond butter

1

tablespoon

tamarind paste

2

teaspoons

avocado oil

divided

5

tablespoons

organic tamari

gluten-free, divided into 3 tablespoons and 2 tablespoon

2

tablespoons

maple syrup

1 1/2

tablespoons

sriracha

or to taste

1/3

cup

organic lemon

or lime juice

1/2

cup

water

1

tablespoon

avocado oil

1

clove

garlic

minced

One bag of Quorn Chik'n Tenders or 14 ounce block of extra firm organic tofu

drained

1

tablespoon

grated ginger

2

large organic carrots

cut into thin strips

4

organic green onions

halved lengthwise and cut into 1/2-inch pieces

1

cup

cooked sprouted mung beans

I use TruRoots variety – 3/4 cup dried yields about 1 cup cooked, or 1 cup mung bean sprouts

1/2

cup

cilantro or parsley

chopped

1/4

cup

organic peanuts

chopped

Lemon slices

for garnish
Instructions
Cook the pad thai noodles according to package instructions. Rinse with cold water until no longer warm and then toss them with a teaspoon of avocado oil to prevent sticking.

Cook the sprouted mung beans according to package directions to make 1 ½ cups cooked. Drain and set aside. You can omit this step if you're using actual mung bean sprouts.

Whisk or blend together together the almond butter, tamarind paste, the remaining teaspoon of avocado oil, 3 tablespoons of tamari, maple syrup, sriracha, lemon juice, and water. Set aside. Taste the sauce. If it's too spicy for you consider adding more lemon juice, tamari and/or water, depending on your taste.

Heat the avocado oil in a large skillet over medium high heat. Add the Quorn (or tofu if you're using) and cook until it's browning on each side (8 to 10 minutes), splashing it as you go with the remaining tablespoon or two of tamari. Set Quorn (tofu) aside in a bowl and reduce heat on your skillet to medium.

Add the garlic and ginger to the skillet (and a little extra oil if needed). Cook until the garlic is fragrant, 1 to 2 minutes. Add the carrots and onions, and cook until the carrots are softened but still crisp, about 3 minutes.

Add the noodles to the bowl with the Quorn and pour a cup of the sauce over them and stir to coat the noodles.

Now pour the noodles and Quorn into the skillet with the veggies, add the cooked mung beans if you're using and stir fry the noodles until they're warm. Add more sauce as you go along to ensure everything is well coated.

If you're using mung bean sprouts, stir them in now to warm them.

Divide the noodles onto four plates. Sprinkle with cilantro (or parsley) and peanuts and garnish with lime (or lemon). Serve.
Notes
Is Your Health At Its Optimum?
If you are suffering from any of the problems listed above—contact us for a consultation. Call (727) 335-0400 to schedule. Our medical clinic is located in Clearwater, FL. If you are not local to us, our medical team treats patients from across the country and internationally via telemedicine consultations. We help you find the underlying root cause of your health issues.
To your health,
Dr. Vikki Petersen
DC, CCN
IFM Certified Practitioner
Founder of Root Cause Medical Clinic
Author of the books:
"The Gluten Effect"
"
Hiatal Hernia Syndrome
",
and of the e-book "Gluten Intolerance – What You Don't Know May Be Killing You!"