2-Ingredient Vegan PayDay Bites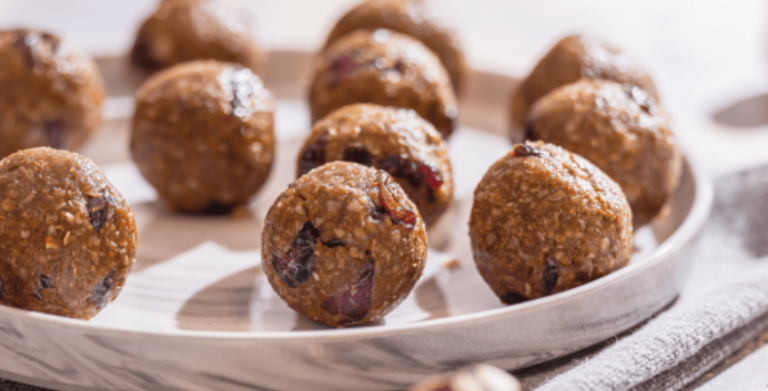 These bites make the perfect treat to enjoy this Halloween. They're also a healthier dessert or snack to have around the house any time of year when salty-sweet cravings strike.
Ingredients
1 ¼ x

cup

roasted salted nuts

(we chose peanuts and cashews // or sub dessicated coconut)

2 

cups

packed, pitted Medjool dates

(sticky and fresh!* // measured after pitting // 1 cup contains ~19 dates)

1 

pinch

sea salt

(optional)
Instructions
Add nuts to a food processor and pulse several times to loosely "chop." You aren't looking for a meal — just chopped. Set aside on a plate or in a shallow bowl.

To the food processor, add pitted dates and sea salt and process until small bits remain or a ball forms. Scoop out ~16 even bites (you can use this scoop!) and roll them into balls with your hands. They will be a little sticky — that's okay!

Begin rolling date bites into the nut mixture to coat, pressing down gently to encourage sticking. Continue until each date bite is thoroughly coated with nuts. (Optional: To coat even more thoroughly, you can pulse any remaining nuts into a loose meal in the food processor and then roll date bites through again to coat — the finer texture will cause more nuts to stick).

Enjoy as is or transfer to the refrigerator to chill for 1 hour. Store leftovers covered in the refrigerator up to 2 weeks or the freezer up to 1 month (sometimes longer). If frozen, let thaw slightly before enjoying.
Notes
Is Your Health At Its Optimum?
If you are suffering from any of the problems listed above—contact us for a consultation. Call (727) 335-0400 to schedule. Our medical clinic is located in Clearwater, FL. If you are not local to us, our medical team treats patients from across the country and internationally via telemedicine consultations. We help you find the underlying root cause of your health issues.
To your health,
Dr. Vikki Petersen
DC, CCN
IFM Certified Practitioner
Founder of Root Cause Medical Clinic
Author of the books:
"The Gluten Effect"
"
Hiatal Hernia Syndrome
",
and of the e-book "Gluten Intolerance – What You Don't Know May Be Killing You!"
Nutrition
Serving:
1
bites
Calories:
223
kcal
Carbohydrates:
45.6
g
Protein:
3.4
g
Fat:
5.5
g
Saturated Fat:
0.9
g
Sodium:
56
mg
Potassium:
464
mg
Fiber:
4.5
g
Sugar:
38.4
g