Almond Flour Crackers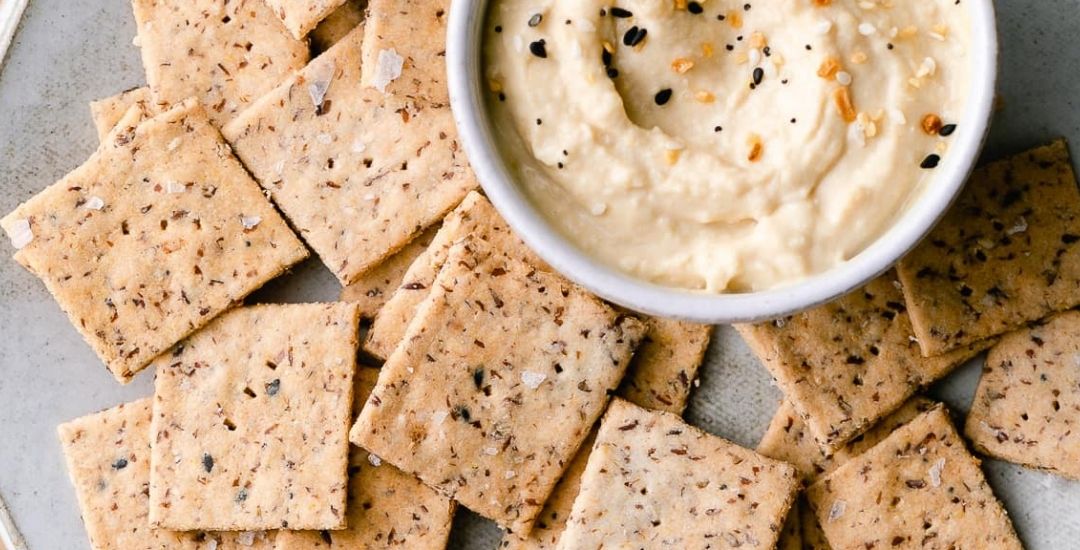 Homemade Almond Flour Crackers with just 4 simple ingredients: almond flour, flaxseed, water, and salt. If you're on the hunt for delicious, low-carb crackers, you're in the right place. These crackers are rich, buttery and super easy to whip up!
Shout out to www.simple-veganista.com for this wonderful recipe.
Ingredients
2

tbsp

flaxseed meal

4

tbsp

water

1

cup

almond flour or almond meal, packed

1/2

tsp

salt

1

tbsp

 sesame seeds (optional add-in)
Instructions
Preheat oven to 350 degrees F. Line a baking sheet with parchment paper.
Flax mixture:
In a small bowl, mix the flaxseed meal and water. Set aside for 10 minutes, stirring every so often. The mixture will be gooey when ready. This is the binder for the mixture (and it includes healthy omega's!).
Almond Flour:
You can buy almond flour or make it close enough at home. In a blender/food processor, grind 1 and 1/4 cup raw almonds into a fine powder or meal type consistency – it doesn't have to be perfect, but the finer, the better.
Make the Dough:
In a medium-size bowl, combine the almond flour, flax mixture, salt, and optional seasonings.
Shape the Roll:
Form the dough into a ball and place it on a flat surface lined with parchment paper. Cover with another piece of parchment paper, press down with your hand to flatten and finish rolling with a pin to about 1/8 inch thick. The thinner, the better and more crispy the crackers will be. Remove top layer of paper.
Cut into squares:
Using a pizza cutter or knife, cut squares or diagonals into whatever size you like. Using a toothpick or small fork, poke the center of each cracker to allow steam to escape during baking (so they don't puff up). Top with a little coarse sea salt.
Bake:
Line the baking sheet with the leftover parchment paper. Carefully transfer each cracker to the baking sheet and bake for 10 – 15 minutes. After the first 10 minutes, keep an eye on them, removing the ones around the edges that are done. They will ever so slightly darken and turn golden, you don't want it too dark, or it may have a burnt flavor. When done, let cool.
Store:
Crackers can be stored in an airtight container for up to 7 days on the counter or in the pantry. For longer storage, keep in the refrigerator for up to 2 weeks.