Vegan Mini Pumpkin Pies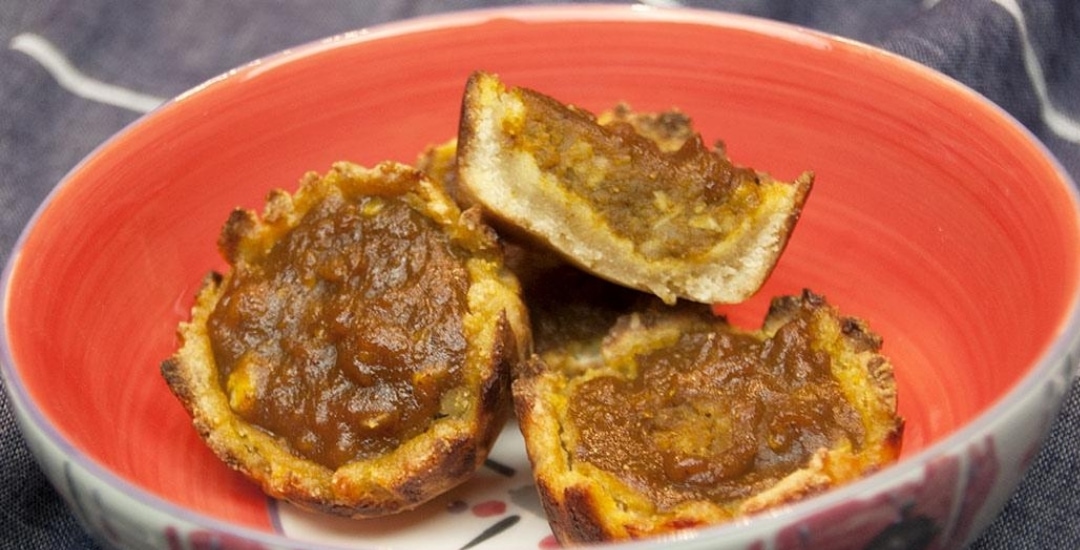 Making pies can be time consuming and if the crust doesn't come out right, the entire pie can be lose its appeal. I don't know about you but I've had the experience of overcooked and undercooked pie crusts, neither of which made Thanksgiving dessert time perfect. This year I was determined to create pie options that were more forgiving, plus super healthy while still being delicious. A tall order, but I found these cute pumpkin pie cups that filled all my requirements. They are dairy-free, gluten-free, sugar-free and grain-free. Sounds impossible I know, but I promise these are great and very easy to prepare. It's best to make them the night before or early Thanksgiving morning since, like all pies, it needs to set in the refrigerator for several hours. If you're visiting friends or the majority of your guests are demanding the gluten, dairy and sugar laden variety of pumpkin pie that will be consumed by the majority of Americans, I would like to suggest you try these to bring along for yourself and any other family members who are avoiding any of those ingredients. Because they're small and bite-size they are easy to transport and won't be confused for the traditional unhealthy version. I'd like to thank feastingonfruit.com for the inspiration for this recipe. I just made a few small changes, but essentially this wonderfully easy recipe was all hers.
Please let me know how you enjoy these.
Ingredients
1 1/2

cup

organic almond flour

This recipe makes 4 cups, consider doubling or tripling it to make more.

Note: If you need to avoid nuts consider substituting brown rice flour. The only difference is that it requires more maple syrup and water. You'll need 1/4 cup maple syrup and 4-6 tbsp water. Combine until the texture is crumbly but sticks together when pressed.

2

Tbsp

organic maple syrup

1

Tbsp

filtered water

Ingredients for Filling

1

cup

organic pumpkin puree from a box or can – this is pure pumpkin

not pumpkin pie filling

1/2

cup

baked

or steamed and mashed organic sweet potato – it's easier to steam. Simply peel, cut into small pieces and steam until fork-tender, about 15 minutes.

1/4

cup

organic maple syrup

1/2

teaspoon

ground cinnamon

1/2

teaspoon

ground ginger

1/2

teaspoon

ground nutmeg
Instructions
Preheat the oven to 375F.

Mix together the crust ingredients with a fork until well combined. It's a crumbly texture, but will stick together when pressed.

Lightly grease 4 cups of a muffin pan with a neutral oil such as avocado or almond. Place a strip of parchment paper along the bottom of each cup for easier removal.

Press the crust into the muffin tin, covering the bottom and sides evenly. You can wet your fingers if it seems too sticky.

Blend the filling ingredients until smooth and creamy using a blender or mixer.

Pour into the crusts, and smooth out the tops.

Bake for 30 minutes at 375F.

Cool then chill overnight (or at least 8 hours).

Consider topping with coconut whipped cream – recipe here.

To your fabulous health,
Notes
Is Your Health At Its Optimum?
If you are suffering from any of the problems listed above—contact us for a consultation. Call (727) 335-0400 to schedule. Our medical clinic is located in Clearwater, FL. If you are not local to us, our medical team treats patients from across the country and internationally via telemedicine consultations. We help you find the underlying root cause of your health issues.
To your health,
Dr. Vikki Petersen
DC, CCN
IFM Certified Practitioner
Founder of Root Cause Medical Clinic
Author of the books:
"The Gluten Effect"
"
Hiatal Hernia Syndrome
",
and of the e-book "Gluten Intolerance – What You Don't Know May Be Killing You!"