Chocolate Chunk Banana Bread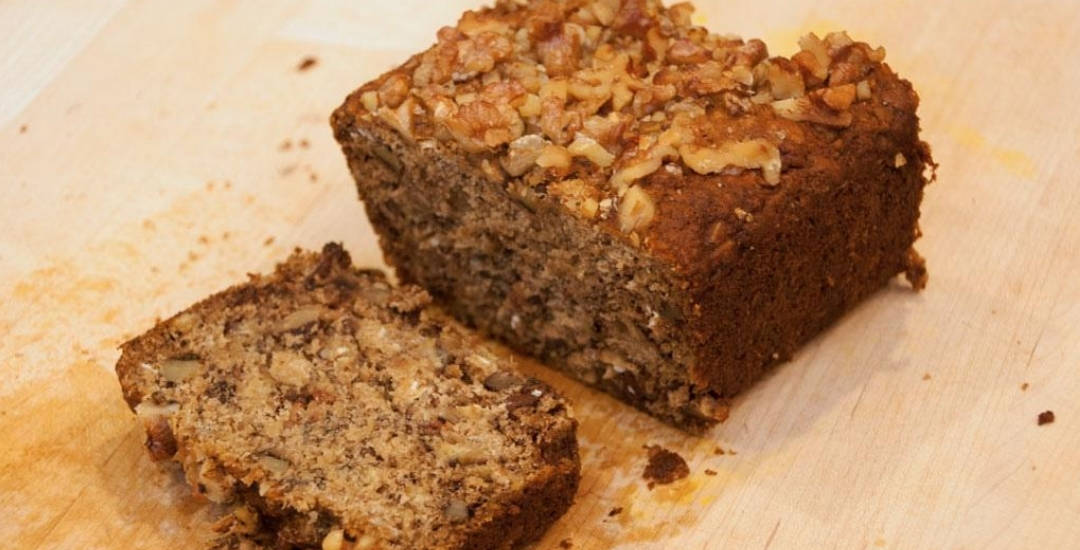 Chocolatey banana bread with walnuts!
Does everyone love banana bread? Based on the tens of millions of hits on a Google search, apparently yes. It's a favorite because it's moist, chocolatey, crunchy with nuts, and can be enjoyed for a snack, breakfast and dessert. So adaptable!The traditional recipe is full of gluten, sugar, milk, eggs and is basically completely unhealthy. Taking on the challenge of creating a healthy version was fun and I think you'll enjoy it. This recipe is free of most allergens and very easy to make.If you're avoiding nuts, you can just leave them out, or add sunflower or pumpkin seeds. If you're avoiding oats you can substitute quinoa flakes. Enjoy the recipe for special occasions and wow your friends and family who won't believe you made it from scratch. It's that good!Let me know how you enjoy it and any substitutions you try.
Ingredients
Pan: 1 loaf pan – I prefer glass

9×5"

1 1/3

cups

mashed very ripe banana

about 4 medium or 3 large

2

tablespoons

ground organic flaxseed

1/3

cup

organic unsweetened plant-based milk

such as almond milk

1/3

cup

organic refined coconut oil

melted (or use unrefined if you enjoy the flavor of coconut)

2

tablespoons

pure organic maple syrup

2

teaspoons

pure vanilla extract
Dry Ingredients
1/4

cup

plus 2 tablespoons organic coconut sugar or date sugar

1/2

cup

organic gluten-free rolled oats

1

teaspoon

baking soda

1/2

teaspoon

baking powder

1/2

teaspoon

Himalayan sea salt

1 1/2

cups

Bob's Red Mill all purpose gluten-free flour mix

¾

cup

organic chopped walnuts

divided

¼

cup

chopped roughly

high quality bittersweet chocolate, dairy-free and preferably sugar free. You can also make your own sugar free chocolate. Lily's chocolate chips is sweetened with stevia.
Instructions
Preheat the oven to 350°F. Lightly grease a 9×5-inch loaf pan with coconut oil.

In a large bowl, mash the banana well.

Add the remaining wet ingredients (almond milk, melted oil, maple syrup, and vanilla) into the banana and mix until combined.

Stir the dry ingredients (ground flax, coconut sugar, oats, baking soda, baking powder, salt, and flour) into the wet mixture, one by one, in the order listed. Don't overmix. As soon as all the ingredients are combined, stop.

Lastly add the walnuts (1/2 cup) and chocolate.

Spoon the dough into the loaf pan and spread it evenly. Add the remaining ¼ cup of walnuts to the top of the dough, gently pressing them into the dough.

Bake the loaf, uncovered, for 45 to 50 minutes until lightly golden and firm on top. The top of the loaf should slowly spring back when you press on it.

Allow the loaf pan 20 minutes on a cooling rack to cool completely. Loosen with a knife and remove it from the pan, placing it again onto the cooling rack. It's hard to wait, I know!

The loaf will keep in the fridge tightly wrapped for 3 to 4 days, or it can be frozen for 4 to 5 weeks.