Coconut Whipped Cream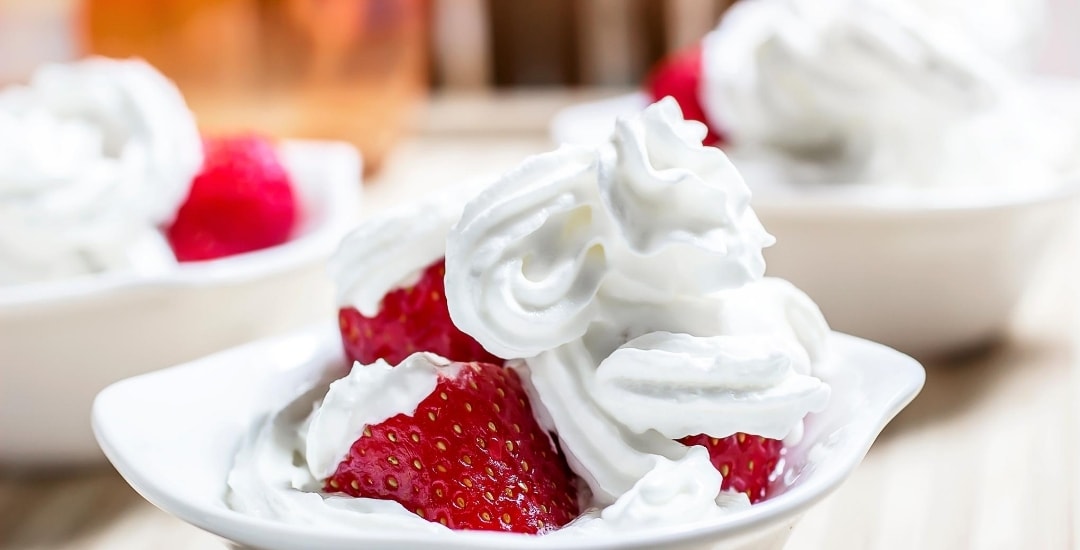 Coconut Whipped Cream – fluffy and delish
I had tried countless time to take the rich coconut cream found in the top layer of a can of coconut milk and whip it into submission the way one would with heavy cream from a cow. Well, I can tell you, it just doesn't work. All I was ever left with was some nice tasting coconut cream that in no way resembled fluffy, delicious whipped cream. It tasted good but the texture was all wrong. This year over Thanksgiving my daughter and I decided to give it one more try. We discovered this recipe and it worked beautifully. Now do realize this is not something that's a daily part of your diet. This is for your birthday or a special occasion only, but it is delicious and sometimes you do need a little whipped cream in your life. This recipe is adapted from "Dairy Free Made Easy", by Alisa Marie Fleming. Although there are many, many coconut whipped cream recipes to be found on the internet, we found this one and it worked – enough said. Coconut is a wonderful, dairy-free alternative and it makes a delicious whipped cream. Warning for those limiting their fat: coconut's fat is saturated, making it something you should consume in moderation.
Ingredients
2

cans full fat coconut milk

13.5 oz cans – unflavored and unsweetened, refrigerated for 24-48 hours.

1/4

teaspoon

powdered sugar or Stevia

1

– 4 Tablespoons coconut flour or tapioca flour

add 1 Tbsp at a time – try tapioca first. It's easier to find and is a finer texture. The coconut flour is still good, but makes for a grainier product.

1

Tablespoon

vanilla extract
Instructions
Chill the cans of coconut milk overnight in the fridge

Open the cans, drain off the clear liquid and transfer the cream to a chilled bowl, using a rubber spatula to scrape all the cream out of the cans

Beat the thick coconut cream in the chilled bowl with a hand mixer until thick and fluffy

Add the vanilla, then gradually beat in the powdered sugar and coconut or tapioca flour, 1 or 2 tablespoons at a time, testing for flavor and consistency

For flavored whipped cream, add some cinnamon, instant coffee, or cocoa powder (you may want to increase the sugar a bit); or replace the vanilla with almond or coconut extract or even a liqueur (special occasions only!).

Using a rubber spatula, transfer the coconut cream to a covered storage container, and chill for 2 hours until the mixture firms. Serve chilled.
Notes
Is Your Health At Its Optimum?
If you are suffering from any of the problems listed above—contact us for a consultation. Call (727) 335-0400 to schedule. Our medical clinic is located in Clearwater, FL. If you are not local to us, our medical team treats patients from across the country and internationally via telemedicine consultations. We help you find the underlying root cause of your health issues.
To your health,
Dr. Vikki Petersen
DC, CCN
IFM Certified Practitioner
Founder of Root Cause Medical Clinic
Author of the books:
"The Gluten Effect"
"
Hiatal Hernia Syndrome
",
and of the e-book "Gluten Intolerance – What You Don't Know May Be Killing You!"
Notes
Dr. Vikki Petersen
DC, CCN
IFM Certified Practitioner
Founder of HealthNOW Medical Center
Author of "The Gluten Effect"
Author of eBook: "Gluten Intolerance – What You Don't Know May Be Killing You!"