Quinoa Salad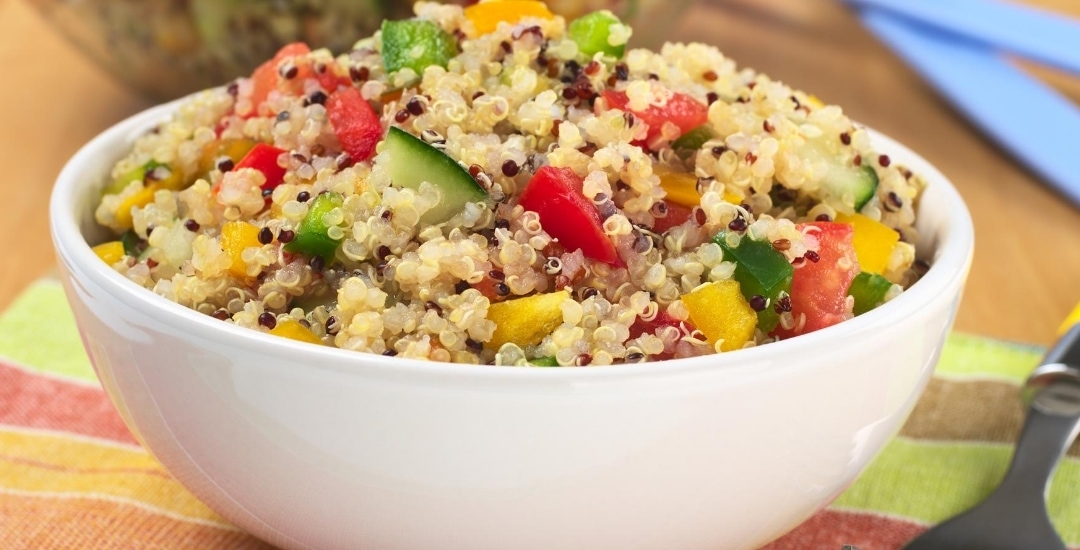 Quinoa is a fun grain that's easy to make and gluten-free. It has a nice nutty flavor and can replace rice in most recipes. This delicious salad includes as many fresh organic veggies as you wish to add and can always taste a little different depending on what you have on hand. When it comes to adding vegetables, I'm a big fan of those that are healthiest for you. The best come from the crucifer family and include kale, Brussels sprouts, cauliflower, broccoli, red cabbage, etc., so try to include some of those. You could add some black beans or nuts for added plant protein as well. When you're missing starch and you're following a gluten-free diet, it's nice to have a healthy meal that can satisfy the "carb" tooth without getting you into trouble. As with so many of our recipes, this one is high in nutrition while not sacrificing your taste buds. It also cooks up quickly, not chaining you to your kitchen.
Let me know what combinations you come up with that you enjoy most!
Ingredients
1 ½

cups

organic quinoa

rinsed several times in a sieve

3

cups

purified water

or organic vegetable broth (or a combination) – I typically do 1/2 and 1/2.

1

cup

fresh or frozen organic peas

frozen baby peas should be just defrosted

Organic veggies

raw or lightly steamed (broccoli, red cabbage, asparagus, carrots, etc), chopped into bite-sized pieces

½

cup

chopped organic red onion

1

pint

organic cherry tomatoes

½

cup

chopped organic black or green olives

optional – my favorite are garlic stuffed

1/4 to 1/3

cup

organic cold pressed extra virgin olive oil

1/4

cup

organic balsamic vinegar or organic lemon juice

1

or 2 crushed organic garlic cloves

2-4

Tbsp.

fresh organic dill

chopped (or 1 Tbsp. dried dill)

2

Tbsp.

chopped fresh organic parsley

Himalayan sea salt and pepper to taste
Instructions
Rinse quinoa well in a strainer (quinoa tastes bitter if not well rinsed). Bring 3 cups water or broth to a boil. Add rinsed quinoa and bring back to boil. Simmer uncovered for about 15 minutes until liquid is well absorbed. Let sit for 5 minutes.

Transfer to large bowl with a small amount of olive oil to prevent sticking, and allow to cool.

Meanwhile, mix together remaining oil, vinegar or lemon juice, parsley, dill and garlic in a small bowl.

Add veggies and dressing to quinoa and toss well with to fully combine. Add salt and pepper to taste. Chill before serving or enjoy warm.
Notes
Some recipes and videos contain affiliate links for products we use and believe our patients and readers would enjoy. If you purchase such a product via the link we receive a small commission at no extra cost to you. It's similar to a referral fee and helps us to pay the videographer and the grocery bill. Thank you!