Creamy Pasta Alfredo – Dr Vikki Style!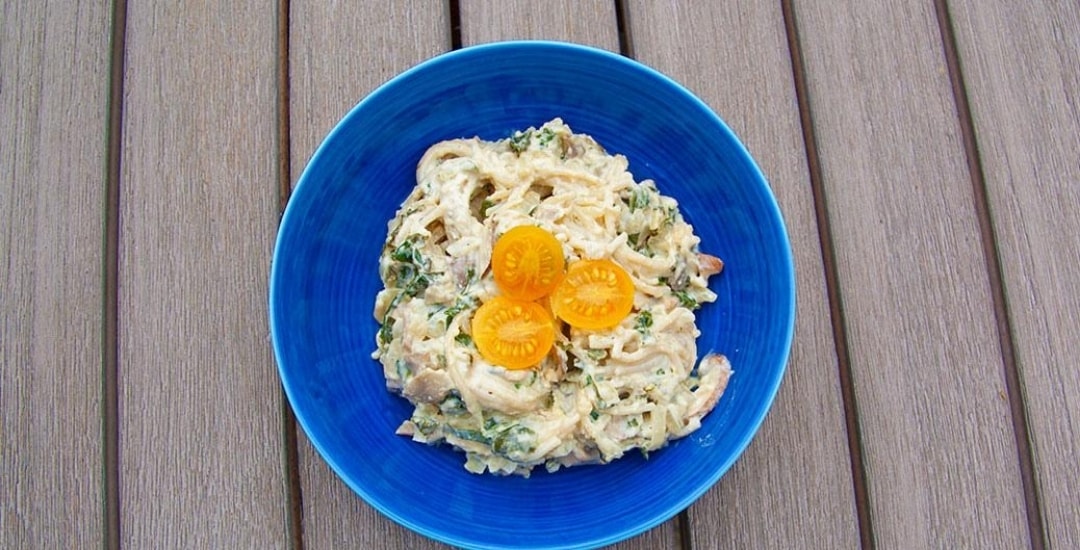 As someone who is gluten sensitive and dairy sensitive, I certainly got my fair share of both growing up – no wonder I was so sick! I was addicted to pasta and while there were many sauce variations I liked, "Alfredo" was my absolute favorite. My dad's name was Alfred and he was 100% Italian, so it seemed fitting. It's been many years since I've come to terms with my gluten-free, dairy-free, plant-based existence, and the good health the I now enjoy makes me never want to cheat. But… mentally and emotionally a creamy pasta dish still sounds good. This recipe was born from a picture in a magazine boasting the use of wheat pasta, heavy cream and parmesan cheese. That wasn't going to work, so I had a little fun and I hope you enjoy it when you're craving some good old fashioned gluten and dairy – with the gluten and dairy of course!
Ingredients
1

box gluten free pasta – the shape is up to you. I use spaghetti but you could use rotini or elbows also. My favorite brand is Jovial – it's Italian.

2

teaspoons

organic avocado oil

1

organic medium-size yellow onion or 2 medium organic shallots – finely chopped

2

cloves

organic garlic – crushed

8-9

medium organic brown mushrooms – chop 6 and slice the remaining 2 or 3

1/4

cup

organic white wine

optional – there will be no alcohol content remaining once cooked

1

cup

finely chopped organic kale

ribs removed

1 1/2

cups

organic cashew cream – see recipe below

2

Tablespoons

toasted and chopped organic walnuts

2

Tablespoons

organic Italian parsley – chopped

Himalayan sea salt and pepper to taste

Cashew Cream Recipe

1

cup

organic cashews covered with purified water and left to soak up to 2 hours or overnight in refrigerator. This can be made several days ahead.

1/4

teaspoon

organic onion powder

1/4

teaspoon

organic garlic powder

1-2

Tablespoons

organic nutritional yeast powder

Salt and pepper to taste

Pour cashews plus soaking water into a blender such as a Blendtec. Add all remaining ingredients and blend on high for about 2 minutes until cashew cream is thick and smooth. The flavor profile can be altered to your taste. If you like things more bland

begin with less spices and yeast. You can always add and re-blend to get to your desired taste level.
Instructions
Prepare the cashew cream first – see above.

Get water boiling and to it add a couple teaspoons of salt. Once boiling add the pasta.

While waiting for the water to boil, quickly toast the walnuts and chop. Toasting takes just a few minutes and don't leave the nuts alone – they burn easily.

While the pasta is cooking add the oil to a saute pan on medium heat. Once the oil is warm add the onions and saute until translucent, about 3 minutes.

Add the crushed garlic, stir for a minute and then raise the heat to medium-high.

Add the mushrooms and keep stirring to ensure nothing burns. Add the chopped kale. As the mushrooms are starting to brown add the white wine if using – it's optional. The heat will cook off the alcohol, leaving only the flavor of the wine.

Take the mushrooms and kale off the heat. The kale should be bright green in color.

Drain the pasta and add it to the mushrooms.

Pour the cashew cream over the pasta and mushrooms, toss, top with the walnuts and eat immediately. Grind some pepper over the pasta before serving.

Garnish with parsley.
Notes
Is Your Health At Its Optimum?
If you are suffering from any of the problems listed above—contact us for a consultation. Call (727) 335-0400 to schedule. Our medical clinic is located in Clearwater, FL. If you are not local to us, our medical team treats patients from across the country and internationally via telemedicine consultations. We help you find the underlying root cause of your health issues.
To your health,
Dr. Vikki Petersen
DC, CCN
IFM Certified Practitioner
Founder of Root Cause Medical Clinic
Author of the books:
"The Gluten Effect"
"
Hiatal Hernia Syndrome
",
and of the e-book "Gluten Intolerance – What You Don't Know May Be Killing You!"