Fresh Green Salad with Almond-Lemon Dressing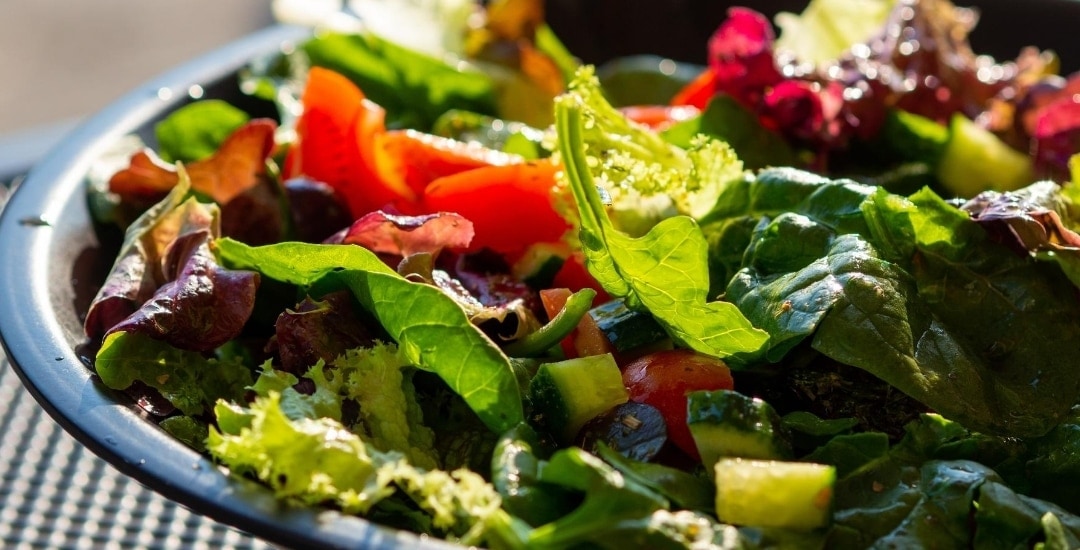 Choose the brightest, most colorful lettuce because that's how you know it has the most nutrients and antioxidants. Lettuce also has folate, potassium, beta carotene and lutein. To add a little bit of flavor and texture on top of the salad, we love Simply Veganista's almond lime dressing! The nutty flavor of almond butter blends well with lemon. Experience something new today by trying out this recipe.
Ingredients
1

cup

of organic cucumber and/or zucchini

sliced

1

cup

carrot

thinly sliced

1

small organic bell pepper

sliced

1

small organic tomato chopped

1-2

pieces

scallions

thinly sliced

2-3

cups

lettuce

sprinkle of almond slices or pepitas

optional
Almond-Lemon Dressing:
4

tbsp

organic almond butter

2-4

tbsp

water

1 1/2

tbsp

pure maple syrup

1

tspn

Tamari

Juice from 1 Organic Lemon

pinch of red pepper flakes

optional
Instructions
Almond Dressing
In a small bowl, whisk together the ingredients until creamy. Let rest a few minutes so the flavors can mingle. Adjust taste based on your preference (either add tamari or natural sweeteners).
Prep Veggies
Next, prepare your vegetables any way you like, using as much as you like. Taste dressing once more to make sure it's to your liking.
Salad
In individual bowls, add the salad and top with veggies however you like. Drizzle with 1/2 of the dressing over top and enjoy.
Notes
Is Your Health At Its Optimum?
If you are suffering from any of the problems listed above—contact us for a consultation. Call (727) 335-0400 to schedule. Our medical clinic is located in Clearwater, FL. If you are not local to us, our medical team treats patients from across the country and internationally via telemedicine consultations. We help you find the underlying root cause of your health issues.
To your health,
Dr. Vikki Petersen
DC, CCN
IFM Certified Practitioner
Founder of Root Cause Medical Clinic
Author of the books:
"The Gluten Effect"
"
Hiatal Hernia Syndrome
",
and of the e-book "Gluten Intolerance – What You Don't Know May Be Killing You!"
Notes
Thank you Simply Veganista for the salad inspiration!