Gluten Free Dinner Recipes Quinoa Pilaf!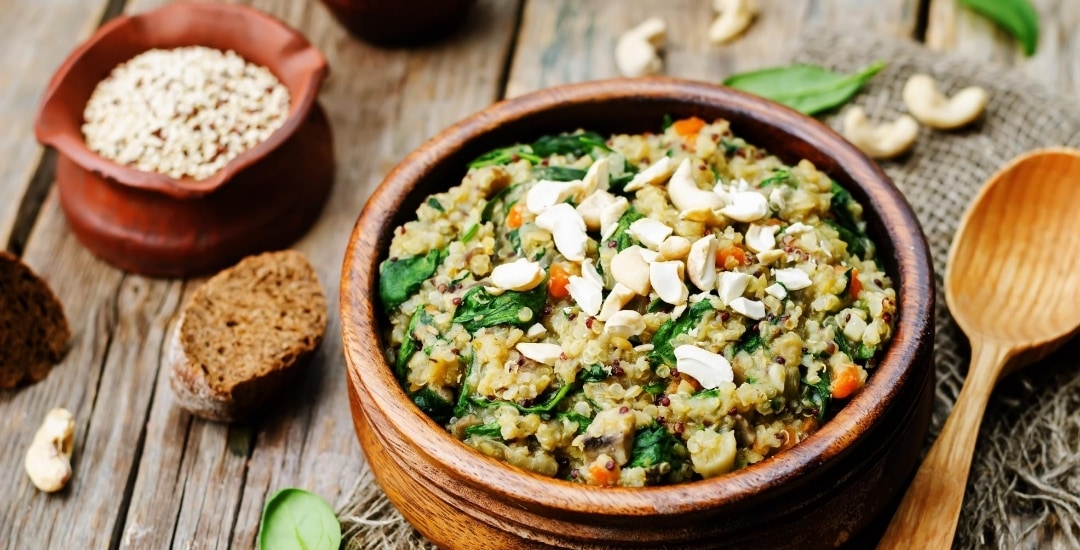 When you're missing starch and you're following a gluten-free diet, it's nice to have a healthy meal that can satisfy the "carb" tooth without getting you into trouble. As with so many of our recipes, this one is high in nutrition while not sacrificing your taste buds. It also cooks up quickly, not chaining you to your kitchen. Quinoa is a delicious nutty, gluten-free grain that's light and basically takes on the flavors of what you add to it. This recipe boasts some nice fragrant spices that will make it seem as if you spent a lot of time preparing this meal, when it's actually quite simple. When it comes to adding vegetables, I'm a big fan of those that are healthiest for you. The best come from the crucifer family and include kale, Brussels sprouts, cauliflower, broccoli, etc., so try to include some of those. Enjoy the pilaf with vegetables of your choice and let me know what you come up with!
Ingredients
1

cup

of organic quinoa

1

tbsp

of healthy organic cooking oil – avocado

coconut or tea seed

1

organic onion –thinly sliced

2

cloves

of organic garlic – minced

Optional vegetable ideas: thinly sliced zucchini

kale, chopped in small pieces, asparagus, chopped in 12/ inch pieces, mushrooms – 5 or 6 sliced thin. The more vegetables you add the healthier it is.

1

can organic beans of your choice

rinsed. Cannellini or garbanzo or black beans would all be good.

1

bay leaf

2

cardamom pods–slightly opened

½

tsp

of cinnamon powder

1/2

tsp

of cumin powder

2

cups

of filtered water

Salt to taste

Coriander leaves as garnish

optional
Instructions
Rinse the quinoa well and leave aside to drain.

In a cooking pot, add the oil and warm over medium heat. Add the thinly sliced onions, and mushrooms if your're using them.

Keep the heat on medium and add the bay leaf and cardamom pods. Keep stirring the mixture for about a minute or so.

Add the minced garlic and mix together.

Add the beans and stir.

Add the rinsed quinoa and mix well. Immediately add the water. Turn the heat up to medium- high. Once the water comes to a boil, add the cinnamon powder, cumin powder and salt. Stir and mix well.

Lower the heat and simmer until most of the water evaporates – about 15 minutes or so. At this point the quinoa should appear cooked (transparent and fluffy) – cover the pot, add the veggies and allow them to steam for 3 or 4 minutes until slightly tender but still firm.

Turn the heat off and let the pot stand with the lid on for a few more minutes. Remove from the pot and 'fluff' in a serving bowl.

Garnish with coriander leaves and enjoy.

Alternatives: you can use vegetable broth instead of water for more flavor.
Notes
Is Your Health At Its Optimum?
If you are suffering from any of the problems listed above—contact us for a consultation. Call (727) 335-0400 to schedule. Our medical clinic is located in Clearwater, FL. If you are not local to us, our medical team treats patients from across the country and internationally via telemedicine consultations. We help you find the underlying root cause of your health issues.
To your health,
Dr. Vikki Petersen
DC, CCN
IFM Certified Practitioner
Founder of Root Cause Medical Clinic
Author of the books:
"The Gluten Effect"
"
Hiatal Hernia Syndrome
",
and of the e-book "Gluten Intolerance – What You Don't Know May Be Killing You!"
Notes
Is Your Health At Its Optimum?
If not, we can help you restore it—contact us for a FREE CONSULTATION. Call (408) 733-0400 to schedule. HeatlhNOW Medical Center is located in Sunnyvale, CA and specializes in root cause medicine. If you are not local to us, our DESTINATION CLINIC treats patients from across the country and internationally. We are here to help!
I hope you enjoy this gluten free dinner recipe.
To your good health,
Dr. Vikki Petersen
DC, CCN
IFM Certified Practitioner
Founder of HealthNOW Medical Center
Author of "The Gluten Effect"
Author of eBook: "Gluten Intolerance – What You Don't Know May Be Killing You!"