Kale, Quinoa and Avocado Salad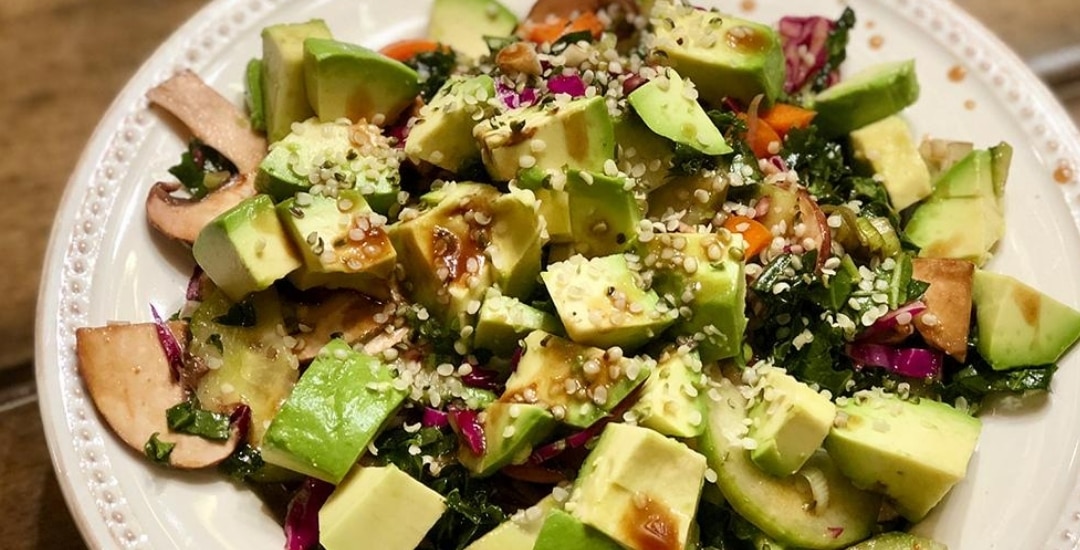 Organic Kale, Quinoa and Avocado Salad
If you're trying to eat a satisfying meal that is extremely healthy, requires little to no stove time and will make your body very happy, try this salad. Finding a salad that can truly suffice as a meal, even if you're an adult active male, can be tricky, but this one definitely fits the bill. It's extremely filling and healthy and yes, this is based on testing.Hint: when I cook quinoa or Quorn, I frequently make extra so that I can have some on hand for these great salads. When you say "salad" to most Americans they think of iceberg lettuce, perhaps a slice of tomato and some cucumber. It's definitely the opposite of filling unless it's drenched in a fatty dressing such as Ranch – the opposite of healthy, for sure.In this salad we have all the very best ingredients and they combine to make a very satisfying meal. You can alter the amount of ingredients you're using to suit who you are feeding, but I give approximations below to get you started.
Let me know how you enjoy it!
Ingredients
1

cup

organic kale

shredded

1/2 to 1

organic carrots

cut in thin slices

1/2 - 1

cup

organic Red cabbage

shredded

1

organic green onion

sliced thin

1/2

cup

cooked

organic tri-color organic quinoa. Cook according to package directions.

1 -1 1/2

organic cucumber

sliced thin

2 to 3

organic cremini mushrooms

sliced thin

1/2

cup

Quorn Chik'n nuggets

or 1/2 can organic black beans. Quorn can be cooked in just a few minutes - follow the package instructions.

1/3

organic avocado

chopped

Top with a sprinkle of organic hemp seeds

Salt and pepper to taste
Dressing
Dr. Vikki's Salad Dressing

1/2

cup

organic Balsamic Vinegar

1/2

cup

organic extra-virgin cold-pressed Olive oil

1

organic garlic clove

crushed

1/2

tsp

of Dijon mustard

Combine the ingredients and shake well. Can be refrigerated up to 5 days.
Instructions
Place the quinoa at the bottom of the bowl with a little drizzle of dressing, followed by the rest of the ingredients. Add more dressing, salt and pepper to taste.
Notes
Schema/Recipe SEO Data Markup by Yummly Rich Recipes