Maple Roasted Brussels Sprouts with Toasted Pecans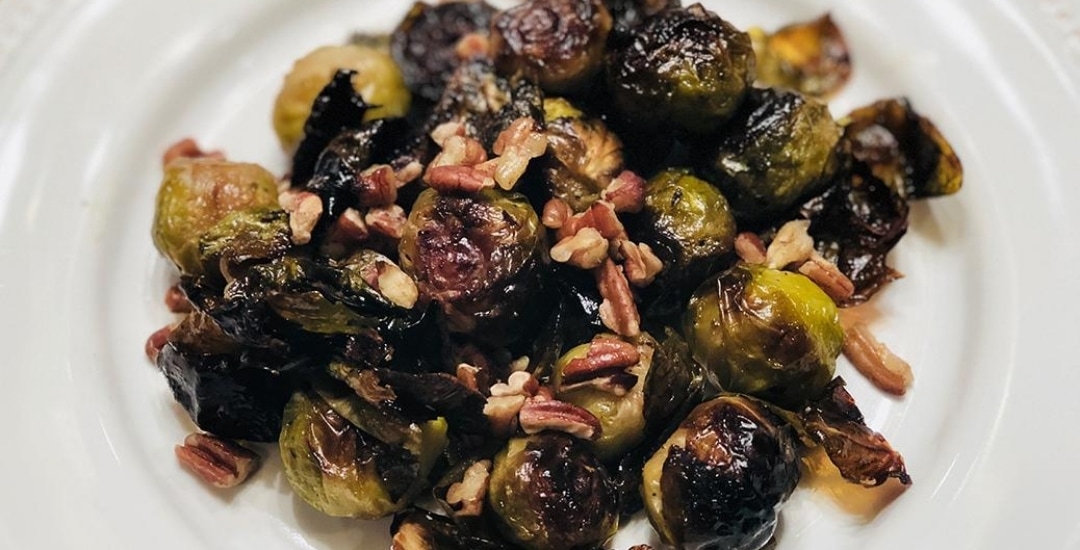 Gluten-free Maple Roasted Brussels Sprouts with Toasted PecansBrussels sprouts are a very healthy vegetable. They are part of the cruciferous family along with kale, arugula and broccoli. Brussels sprouts are miniature cabbages that, when prepared correctly, are delicious. Personally I remember having a strong dislike for them as a child. My mother was a great cook but apparently no one told her about the trick of roasting Brussels sprouts. Hers were boiled and very unappealing to look at, not to mention eat. I always try to include the healthiest foods in my diet, so I well remember the day I purchased Brussels sprouts, deciding that I would find a way to enjoy them. We actually have a couple of recipes on this site for them, but they do tend to pair great with nuts, especially creamy pecans. This particular recipe includes maple syrup because it's the holiday season and we are trying to offer up some sweetness while maintaining the health quotient of recipes. But you can definitely (preferably) leave out or use less maple syrup and you'll still have a delicious dish.
Please let me know how you enjoy it.
Ingredients
1 1/2

pounds

organic Brussels Sprouts

¼

cup

organic avocado oil

¾

teaspoon

Himalayan sea salt

¼

teaspoon

black pepper

2

tablespoons

100% pure organic maple syrup

½

cup

coarsely chopped toasted organic pecans
Instructions
Preheat oven to 375 degrees.

To prepare Brussels Sprouts:

Remove any yellow or brown outer leaves, cut off the stems, and cut in half.

Rinse and dry.

In a large bowl, toss the sprouts in oil, salt, and pepper. Once all the sprouts are coated in oil, arrange them in a 9x13 inch baking sheet.

Roast for 15 minutes. Stir sprouts around with a spatula to even out the browning.

Continue to roast for an additional 25-30 minutes. Stir the sprouts again, and drizzle maple syrup over the top.

Roast the sprouts for a final 10-15 minutes or until fork tender (about 40-45 minutes total roasting time).
To toast pecans:
Preheat oven to 350 degrees. Place the pecans in one layer on a rimmed baking sheet.

Roast for 8-10 minutes, or until lightly browned and fragrant. Keep checking on them because nuts can burn quickly.

Toss the roasted sprouts with pecans and serve warm.
Notes
Is Your Health At Its Optimum?
If you are suffering from any of the problems listed above—contact us for a consultation. Call (727) 335-0400 to schedule. Our medical clinic is located in Clearwater, FL. If you are not local to us, our medical team treats patients from across the country and internationally via telemedicine consultations. We help you find the underlying root cause of your health issues.
To your health,
Dr. Vikki Petersen
DC, CCN
IFM Certified Practitioner
Founder of Root Cause Medical Clinic
Author of the books:
"The Gluten Effect"
"
Hiatal Hernia Syndrome
",
and of the e-book "Gluten Intolerance – What You Don't Know May Be Killing You!"
Notes
Schema/Recipe SEO Data Markup by Yummly Rich Recipes