Pumpkin Pie Chia Pudding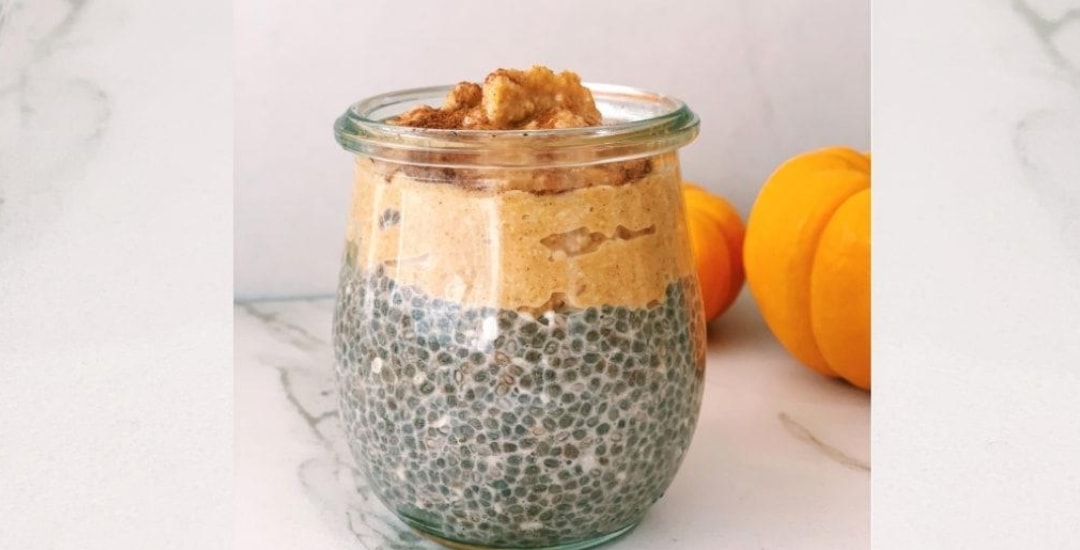 Pie is always a good idea. Isn't that a line from a movie? But it's true!Typically though, "pie" means sugar, dairy, gluten, and a lot of calories. I remember the "coma-like" feeling engendered by holiday pies. Gosh they were good going down, but later I felt exhausted and had a headache, not to mention an upset stomach. Perhaps too much information…Let's get back to this pie – it's delicious, creamy, sweet and rich, without any refined sugar, and won't have you feeling the "post-pie" blues later on. Chia seeds, which bring the thickness to the pie's center, are a super food in their own right. They are very low calorie, yet full of omega 3 fatty acids, fiber, protein, and minerals like magnesium. Quick tip: you must grind the chia seeds to extract their fatty acid goodness. Pumpkin is a healthy vegetable; it's too bad we forget about it for most of the year. It's very low in calories yet high in beta carotene (which converts to vitamin A) and boasts a long list of other vitamins and minerals that it provides.
Ingredients
4

Tablespoons

organic chia seeds

ground

1

cup

organic unsweetened almond milk

1/2

teaspoon

pumpkin pie spice

1/4

teaspoon

organic vanilla extract
Ingredients for Pumpkin Pie Mousse Layer
½

cup

organic raw cashews

5

Tablespoons

organic coconut milk

full-fat

1/4

cup

organic pumpkin puree

1 1/2

Tablespoons

organic maple syrup

2

teaspoons

pumpkin pie spice
Instructions
Combine the chia seeds, almond milk, pumpkin pie spice and vanilla extract in a medium sized bowl. Place in the fridge for an hour to thicken.

Boil water and pour over cashews. Let the cashews soak for 30 minutes minimum, then drain off the water.

Transfer the cashews to a food processor with the coconut milk, pumpkin puree, maple syrup, and pumpkin spice, blending until smooth.

Pour the chia seed pudding into two glass dessert cups and top with the pumpkin mousse.

Transfer to the fridge for an hour or two before serving to let the mousse thicken – or eat immediately if you just can't wait!
Notes
Is Your Health At Its Optimum?
If you are suffering from any of the problems listed above—contact us for a consultation. Call (727) 335-0400 to schedule. Our medical clinic is located in Clearwater, FL. If you are not local to us, our medical team treats patients from across the country and internationally via telemedicine consultations. We help you find the underlying root cause of your health issues.
To your health,
Dr. Vikki Petersen
DC, CCN
IFM Certified Practitioner
Founder of Root Cause Medical Clinic
Author of the books:
"The Gluten Effect"
"
Hiatal Hernia Syndrome
",
and of the e-book "Gluten Intolerance – What You Don't Know May Be Killing You!"