Teriyaki Tofu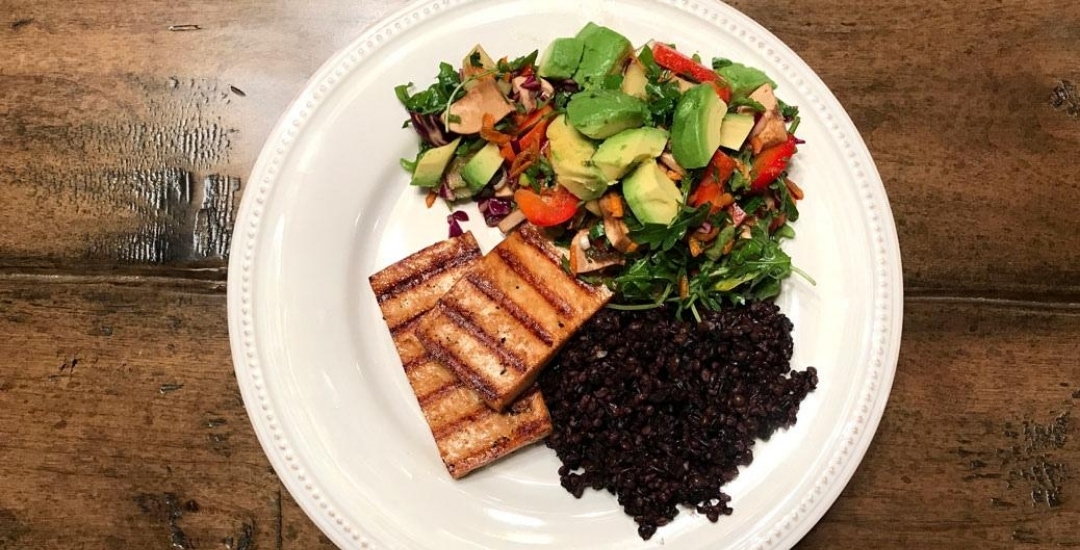 Grilled Teriyaki Tofu
It's important you get enough healthy protein on a plant-based (or predominantly plant-based) diet. Have you heard you should avoid soy? Get the truth about soy here: "Should you eat soy or avoid it?". This recipe is fun to bring to a grilling party, or simply enjoyed at home. It couldn't be simpler, yet it's delicious, packs a nice plant-based protein "punch", and is very satisfying. Serve it with a big healthy salad and black rice as you see pictured – Yes that was the meal I served to my family. What you can't see within the black rice is black beluga lentils I cooked with the rice. Tip: throw some lentils, green, black or red into your rice cooker to amp up the protein content of your rice.This recipe is fast, healthy and delicious.
Let me know how you enjoy it!
Ingredients
1

package extra firm organic tofu

About 3-6 Tablespoons Organic Teriyaki Coconut Aminos for marinating and topping once cooked.

1

Tablespoons

avocado oil for the grill pan.
Instructions
Remove the tofu from the water it comes in. Each 8 oz can be cut in quarters, about ½ inch thick. See the picture to get an idea of how to cut them.

Pat each piece in paper towels to remove the excess water. Push down a little to remove the water.

Place 3 to 4 pieces into a dinner plate and add about 2 Tablespoons of the Teriyaki coconut aminos. You will need two dinner plates to marinate enough for 4 people.

Flip the pieces every 5 minutes or so until they are fully marinated – about 15 minutes total. If they sit in the marinade longer it is completely fine.

Once they are marinated, heat the grill pan on medium high and add the oil. Once the pan is hot, place the tofu onto the heated surface and grill for about 3 minutes. The tofu should sizzle and when you flip it you'll see nice grill marks. Cook for another 3 minutes and serve with a salad, other veggies, etc.

You can top with more Teriyaki sauce if you desire.
Notes
Schema/Recipe SEO Data Markup by Yummly Rich Recipes