Sprouted Lentil Salad with Vegetables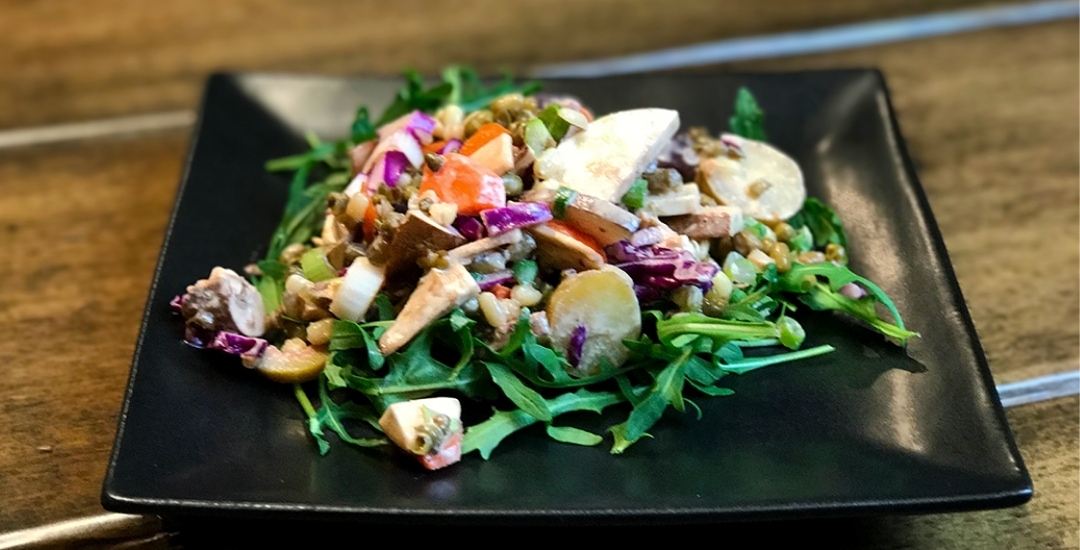 If you're trying to eat more plant based, this is a delicious, fast and easy meal to prepare. It's packed with very healthy ingredients, including a nice plant based source of protein. Sometimes we like to try new food items in order to share them with patients. I remember buying sprouted lentils for the first time. Lentils are a nice source of protein, are anti-cancer and anti-inflammatory. Sprouting made them that much healthier AND faster to cook – Win Win! The weather was warm at the time and I decided to make a salad-type meal. I know when you say the word "salad" many people get the picture of iceberg lettuce and a slice of tomato. When I make a salad, it's typically got a minimum of 6 to 8 ingredients, and it's more of a meal. I was excited to see what I could create with the lentils and after grabbing what I had to hand, vegetable-wise, this was created. On a different shopping trip I noticed the same brand also offered sprouted mung beans. Mung beans are also incredibly healthy and add a chewier sensation than the lentils. We have come to enjoy them best and it is the mung beans that are pictured here. What's fun about this recipe is you can make it taste a little different each time, depending on what veggies you have on hand. In the summer tomatoes are in season but I've made it in winter without tomatoes and added sliced carrot instead. It's all good!
Please let me know how you enjoy this recipe and any variations you come up with that are tasty!
Ingredients
1

cup

sprouted lentils or mung beans

pictured prepared according to package directions – brand I use is TruRoots.

6

organic new

red potatoes (steamed)

1

organic avocado

cut into bite-size pieces

1

organic cucumber

medium, sliced

1

organic red bell pepper

chopped into bite-size pieces. You could substitute an organic carrot if you like it better.

1/2

cup

organic red cabbage chopped

4

organic crimini mushrooms

sliced thin

2

organic green onions

sliced into small pieces (Optional: you could use diced red onion as well)

1

handful of organic cherry tomatoes

when in season

2

tablespoons

vegan mayonnaise

optional- added after salad dressing, see recipe below

Salt and pepper to taste

3

cups

organic arugula

pictured or baby spinach to act as a bed for the salad.
Dr Vikki's Salad Dressing
2/4

cup

organic cold-pressed extra virgin olive oil

1/2 -3/4

cup

organic balsamic vinegar

1

clove

organic garlic finely chopped or put through a garlic press if you have one

1

teaspoon

of Dijon mustard
Instructions
Prepare 1 cup of sprouted lentils or mung beans according to package directions (they only take 10-15 minutes total).

While the lentils are cooking, steam the potatoes that you have cut into bite-sized pieces for about 8 minutes until fork tender but not mushy.

While they are cooking, chop all the rest of the ingredients and combine in a large bowl.

Remember what you add can be varied depending on what you have on hand. I try to include vegetables with high nutrient content, but you can make it your own.

Mix with dressing of choice or use Dr. Vikki's Salad Dressing until the flavor is the way you like. Add over chopped lettuce and enjoy!
Dr. Vikki's Salad Dressing
Put all ingredients in glass jar and shake to combine. This will keep in the refrigerator for up to 5 days.

Buon Appetito!
Notes
Dr. Vikki Petersen DC, CCN
IFM Certified Practitioner
Founder of Root Cause Medical Clinic
Author of "The Gluten Effect"