Asparagus with Tahini Sauce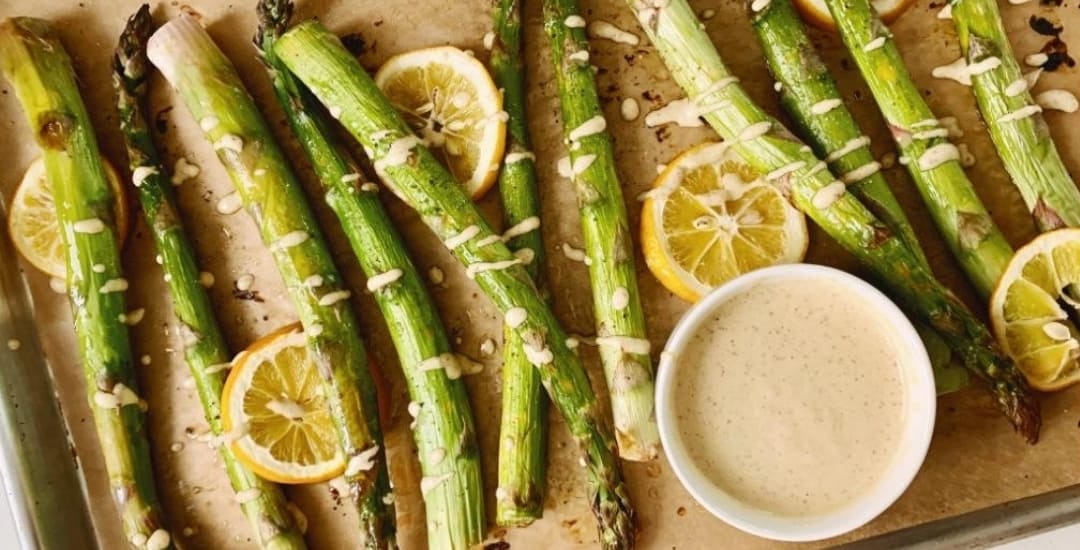 Asparagus with lemon mustard creamy sauce! Asparagus is ridiculously low in calories, yet a filled with fiber, folate, and vitamin K. They are heart healthy, support a healthy pregnancy, and can prevent osteoporosis. They're considered an energy booster and can help cleanse the urinary tract (stinky pee aside!). They are also full of antioxidants nutrients and minerals.Asparagus are traditionally a spring vegetable, but you may find them available during more seasons depending on where you live. They are a delicious vegetable and can be prepared a number of ways. A quick tip to avoid "stringy" or tough bits is to break off the ends of the asparagus. If you bend them from the woody end, they will naturally break at the desired location. You may feel that you are "wasting" it, but trust me, the tough, stringy ends are not very palatable. This recipe couldn't be simpler and doesn't require much time at all. Your oven does most of the work! Recipe by our Registered Dietitian, Rachel Mistry.
Ingredients
1

bunch organic asparagus

with the woods ends broken off.

juice from 1/2 of a fresh organic lemon

1/2

tsp

Himalayan sea salt

1/4

tsp

pepper

2

cloves

of fresh organic garlic

minced

1

tsp

organic extra virgin cold pressed olive oil

Fresh lemon slices

optional
Sauce Ingredients:
3

Tbsp

Dijon mustard

2

Tbsp

nutritional yeast

2

Tbsp

organic tahini

1/4

cup

organic veggie broth or water

1/2

organic squeezed lemon

1/2

tsp

organic onion powder

Salt and pepper to taste
Instructions
Preheat oven to 350*

Line a baking sheet with parchment paper.

Place the asparagus on the baking dish. Toss with the olive oil, lemon juice, and spices until evenly coated.

Spread the asparagus evenly on the baking pan, then top with slices of fresh lemon.

Bake for 10-20 minutes, depending on the thickness of your asparagus and your desired done-ness. I like mine a little on the crunchy side, but you can decide by cutting a little off when you think it's done.

Make the sauce while the asparagus are cooking. Simply mix all the sauce ingredients in a bowl and serve with the warm (or cool) asparagus.
Notes
Is Your Health At Its Optimum?
If you are suffering from any of the problems listed above—contact us for a consultation. Call (727) 335-0400 to schedule. Our medical clinic is located in Clearwater, FL. If you are not local to us, our medical team treats patients from across the country and internationally via telemedicine consultations. We help you find the underlying root cause of your health issues.
To your health,
Dr. Vikki Petersen
DC, CCN
IFM Certified Practitioner
Founder of Root Cause Medical Clinic
Author of the books:
"The Gluten Effect"
"
Hiatal Hernia Syndrome
",
and of the e-book "Gluten Intolerance – What You Don't Know May Be Killing You!"