Grain Free Pumpkin Spice Granola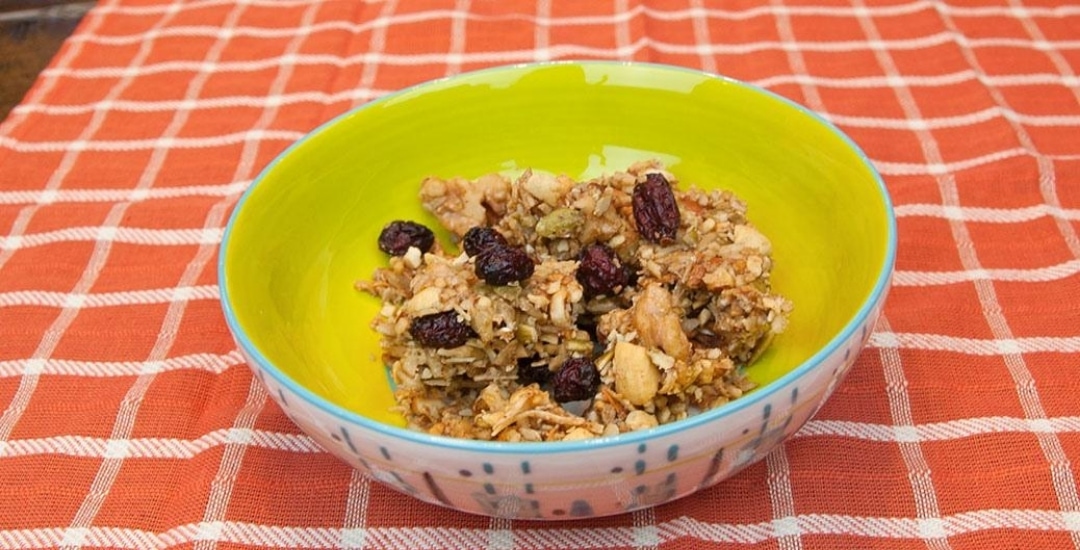 Granola with a little extra spiceIt's fall and everything is "pumpkin". Pumpkins are pretty and pumpkin flavored lattes and cookies and dessert bars abound. But what about the wonderful taste and smell of all things pumpkin (think of the aroma of pumpkin pie!) without any of the bad stuff. In fact imagine a breakfast, snack and even dessert that is satisfying, naturally sweet and has zero sugar, gluten, dairy or grains. It's soy-free, corn-free and is loaded with healthy fat, protein and fiber. I created my original granola when I decided I just had to come up with a version that worked with no oats and no grains. Too many patients cannot tolerate oats and ditto for most grains. This recipe takes the original and puts the Fall pumpkin season "spin" on it without any of the sugar and grains typically called for in similar recipes. Use it for snacks, breakfast, or dessert with a little coconut creme or coconut ice cream.Please let me know how you enjoy this recipe.
Ingredients
1

cup

each organic

raw almonds,

2

cups

organic

raw cashews

1

cup

organic

raw walnuts

1/4

cup

organic

raw Brazil nuts

1/4

cup

organic

raw flax seeds

1

cup

organic

raw sunflower

1

cup

organic

raw pumpkin seeds

Scant 1/2 cup organic coconut oil

refined or unrefined. Unrefined will add more of a coconut taste.

1/2

cup

organic honey

1/8

cup

organic maple syrup

To melted oil and honey/syrup mixture add:

1

tsp.

ground ginger

1

tsp.

cinnamon

1/2

tsp.

ground cloves

1/4

tsp.

Himalayan sea salt

2

tsp

vanilla
Instructions
Preheat oven to 275 degrees.

Total cook time 35-40 min (stir once at halfway point).

Blend the first 4 ingredients in a food processor, pulsing until chopped into smallish pieces. Empty bowl of processor and add rest of the dry ingredients, pulsing again to chop, keeping some larger pieces. Combine all together in a large metal or glass bowl.

Get a small sauce pan and heat the oil, honey, and maple syrup on low heat in a small sauce pan until melted. Stir to combine.

Remove from heat and add the remaining spices and vanilla. Stir.

Add the wet ingredients to the nuts and combine thoroughly until all dry ingredients are coated.

Put onto large cookie sheet lined with parchment paper and flatten evenly.

Place into the oven for 35-40 minutes. Stir and turn over at half way point to make sure nothing is getting too dark.

When fully cooked, granola is a golden brown.

Remove from oven and add the final ingredient, 1 cup dried cranberries (with no sugar added).

Stir to combine, flatten and place in refrigerator to firm up.
Notes
Is Your Health At Its Optimum?
If you are suffering from any of the problems listed above—contact us for a consultation. Call (727) 335-0400 to schedule. Our medical clinic is located in Clearwater, FL. If you are not local to us, our medical team treats patients from across the country and internationally via telemedicine consultations. We help you find the underlying root cause of your health issues.
To your health,
Dr. Vikki Petersen
DC, CCN
IFM Certified Practitioner
Founder of Root Cause Medical Clinic
Author of the books:
"The Gluten Effect"
"
Hiatal Hernia Syndrome
",
and of the e-book "Gluten Intolerance – What You Don't Know May Be Killing You!"